Nov 06, 2016
Qui Nguyen – A Very Interesting WSOP Main Event Champ
By RTR Dennis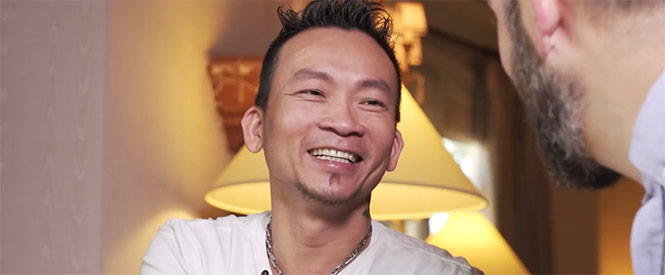 As usual, the 2016 WSOP Main Event final table was an exciting affair. And the action was capped off by a 7-hour heads-up duel between Gordon Vayo and Qui Nguyen. The latter was finally able to eliminate Vayo and capture a top prize worth $8,005,310.
After Nguyen's victory, the world got to know more about the newly crowned WSOP victor. And based on his backstory, he's one of the most-interesting WSOP champs ever.
Below you can see 5 reasons why Nguyen is such an intriguing poker player.
1. Nguyen Worked in a Nail Salon
After immigrating to America from Vietnam, Nguyen worked as a nail technician at a nail salon in Orange County, California.
The good thing about working at the salon was that the numerous Vietnamese customers and co-workers allowed him to easily transition to the United States. The bad thing is that he wasn't in love with the profession.
"It was just a job," Qui said. "I didn't like it a lot, but I needed money."
2. Qui's Brother, Duc, Helped Him Get to the US
Qui's brother, Duc, originally came to America in the 1970s with his aunt, Huong Nguyen. Duc left his brother and parents behind to escape the atrocities of the Vietnam War. Ironically, he would end up serving in wars himself as a member of the US Marines.
Duc Nguyen was injured during tours in Afghanistan and Iraq, receiving multiple Purple Hearts for his bravery. Duc sent a large amount of his Marine salary back to his family in Vietnam and paid his brother's way to America.
Because of his brother, Qui will donate 2.5 percent ($200k) of his WSOP winnings to the Wounded Warrior Project.
"I owe my brother a lot," said Qui. "I'm not here in the US without him. To honor him for serving [our] country, I'm going to donate to the Wounded Warrior Project and the Marines' Toys for Tots as well."
3. Nguyen "Never Saw a City like Las Vegas"
After immigrating to California, it wasn't long before Nguyen moved to Las Vegas to become a poker pro. In fact, he knew that he wanted to live in Sin City immediately upon visiting.
"Oh my god! I never saw a city like Las Vegas," he exclaimed. "You can see lights from anywhere. I fell in love with this crazy city."
After a few more visits, Nguyen moved to Sin City in 2007 to play poker full-time. With little training, he jumped straight into no-limit hold'em cash games and proved a quick learner.
"Sometime in home game we play no-limit, but I didn't really know the game," Qui recalled. "I learned by playing at Bellagio. I start at $2/$5, but I love to gamble so started moving up to $5/$10 right away. I also [played] some small tournaments and had fun."
4. Nguyen Had a Baccarat Addiction
While Nguyen became a successful poker player, he also had one thing holding him back from taking the next step: baccarat.
"Over the years, I have lost my ass playing Baccarat, over $250,000," Qui said. "You work hard to get money from poker. Sometimes you work the whole week, then lose it all at baccarat in a half-hour. I know that I can't beat the game, but I couldn't stop playing. I lost a lot of money."
After making the November Nine, Nguyen decided to change his ways and stop playing so much baccarat.
"Right after November Nine, I decided myself to stop gambling," he explained. "I know I got lucky to make the final table. I don't' have to fight to get money now, so I will only play baccarat for fun now – small amounts and go home."
5. He Won His Main Event Seat through a Satellite
The last eight WSOP Main Event champions have either paid their full buy-in or shared pieces with fellow pros. This makes Nguyen a mid-2000s (and before) throwback because he won his $10k Main Event seat through a satellite.
Following two unsuccessful satellite attempts in land-based poker rooms, he won a seat on the third try. As we now know, the result was a run through the 6,737-player field and onto the Main Event title.
Aside from donating to the Wounded Warrior Project, Nguyen has also pledged 10 percent ($800k) of his winnings to help impoverished people back in Vietnam. Not since Jerry Yang (2007) has a WSOP victor donated so much money to charity. And this makes for yet one more interesting thing about Nguyen.