Poker news | Oct 28, 2021
Jamie Cusack Wins 2021 Unibet IPO Main Event
By RTR Dennis
Jamie Cusack Wins 2021 Unibet IPO Main Event
Ireland's Jamie Cusack has won the largest poker prize of his career when he triumphed in the €300 buy-in International Poker Open (IPO) Main Event, sponsored by Unibet Poker. Cusack returned home with €46,590 and the title of champion after navigating his way through a 974-strong field at Dublin's Bonnington Hotel.
Only 164 of the 974 starters made it through to Day 2, with 119 places paid. Jay O'Toole was the unfortunate soul who burst the money bubble, locking in a min-cash of €560 for the surviving players.
Players including Patrick Clarke, Antonis Poulengeris, Jude Ainsworth, and Unibet Poker ambassadors David Lappin and Dara O'Kearney all saw a return on their investments.
The final day started with ten players but was reduced to the nine-handed final table when Daniel Fox crashed out in tenth, a finish worth €2,850.
Simon Dunevein was the first finalist out of the door before Pat Bermingham went from hero to zero and crashed out in eighth-place. Bermingham, the 2015 IPO Limerick champion, sat down at the final table with the chip lead but could not build on his earlier success.
Fotios Ntamaris saw his tournament end in a seventh-place finish worth €6,350. British poker stalwart Peter Wigglesworth fell in sixth-place for €8,910, the last payment not to weigh in at five-figures. The score pushes Wigglesworth's live earnings towards the $550,000 mark.
Last year, in 2020, A field of 211 players exchanged €300 for the chance to become an IPO champion. Those 211 entrants created a €59,502 prize pool, smashing the €50,000 guarantee. The top 35 finishers padded their bankrolls with a slice of that pie and it was Ciaran Cooney who got his hands on the lion's share and the title of champion.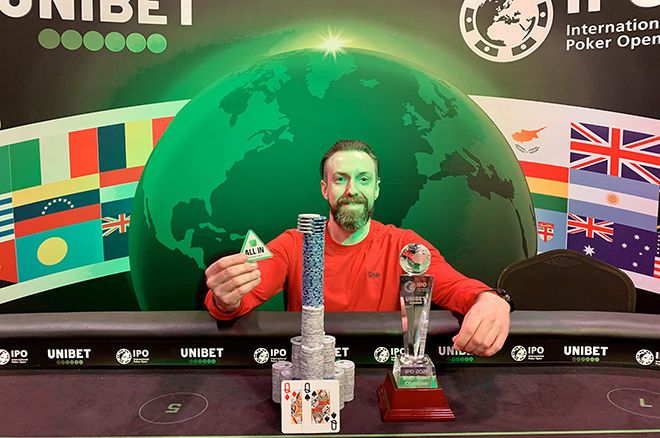 Five Wins of Five-Figures
Until this event, Will McComb's largest live poker score tipped the scales at €1,700 but now he can brag of an €11,880 prize. McComb committed his last 11 big blinds with ace-seven of clubs, and could not get there against Ray Bryant's ladies.
Fourth-place and €15,060 went to Dominik Znasik of Slovenia. Znasik got frisky with pocket three and bet all three streets of a draw-heavy board only for Cusack to check-call all the way having turned a straight with king-jack.
A €20,000 score made its way to Craig Smith. Cusack opened to 600,000 with jack-nine, and called when Smith three-bet shoved with king-four of spades. Cusack flopped an open-ended straight draw but Smith now had a flush draw. A jack on the turn put Cusack in front but there were many rivers that he did not want to see. The king of diamonds was not one of them, and Cusack eliminated Smith.
Cusack held a substantial lead over Bryant going into heads-up but Bryant fought valiantly. it was all over when Bryant raised to 750,000 with pocket fours, and Cusack looked down at queens. Cusack raised to 1,500,000 and quickly called when Bryant jammed his 10,000,000 stack into the middle.
The ten-high all diamond flop kept Cusack's queen ahead, with the king of diamonds turn completing a flush for him and locking in the title. The inconsequential five of diamonds completed the board.
Cusack's previous best result was a €3,605 score for a cash in the 2016 Irish Open Main Event. Now he has a €46,590 haul on his poker CV, in addition to the title of 2021 IPO champion.
2021 Unibet IPO Main Event Final Table Results
| PLACE | PLAYER | PRIZE |
| --- | --- | --- |
| 1 | Jamie Cusack | €46,590 |
| 2 | Ray Bryant | €28,300 |
| 3 | Craig Smith | €20,000 |
| 4 | Dominik Znasik | €15,060 |
| 5 | Will McComb | €11,880 |
| 6 | Peter Wigglesworth | €8,910 |
| 7 | Fotios Ntamaris | €6,350 |
| 8 | Pat Bermingham | €4,390 |
| 9 | Simon Dunevein | €3,480 |