Poker news | Jun 24, 2022
2022 WSOP Recap: Highlights So Far
By RTR Alex
The 2022 World Series of Poker (WSOP) is well under-way at Bally's and Paris Las Vegas and is already providing some timeless moments to add to the history books - from a classic Phil Ivey heads-up battle to the Millionaire-Maker champ sporting a KFC bucket as a hat - though we're still yet to see a classic Phil Hellmuth freak-out.
As we cross the halfway mark of the series, with Phil Hui taking the bracelet for Event #45: $1,500 Pot-Limit Omaha, we thought now's a great time to run through a few of the highlights so far, as well as a full winner's list you can check out at the end.
Kate Kopp Grabs First Gold Bracelet
The first WSOP event of 2022 saw Kate Kopp take home her first ever gold bracelet in the $500 Casino Employees Event No-Limit Hold'em tournament.
Kopp is no stranger to the felt - as a long-time dealer and poker player from Cleveland, Ohio, she managed to navigate a field of 832 players and claim the top prize of $65,168. Kopp has now played in eight WSOP events throughout the years, but this is the first time her name joins the list of gold bracelet winners.
After finishing third in the same event back in 2018, this victory means a lot to Kopp and her family. In a post-win interview she said:

My whole family plays poker. My grandpa taught us. My brother and sister both have rings and even my nine and 10-year-olds know how to play.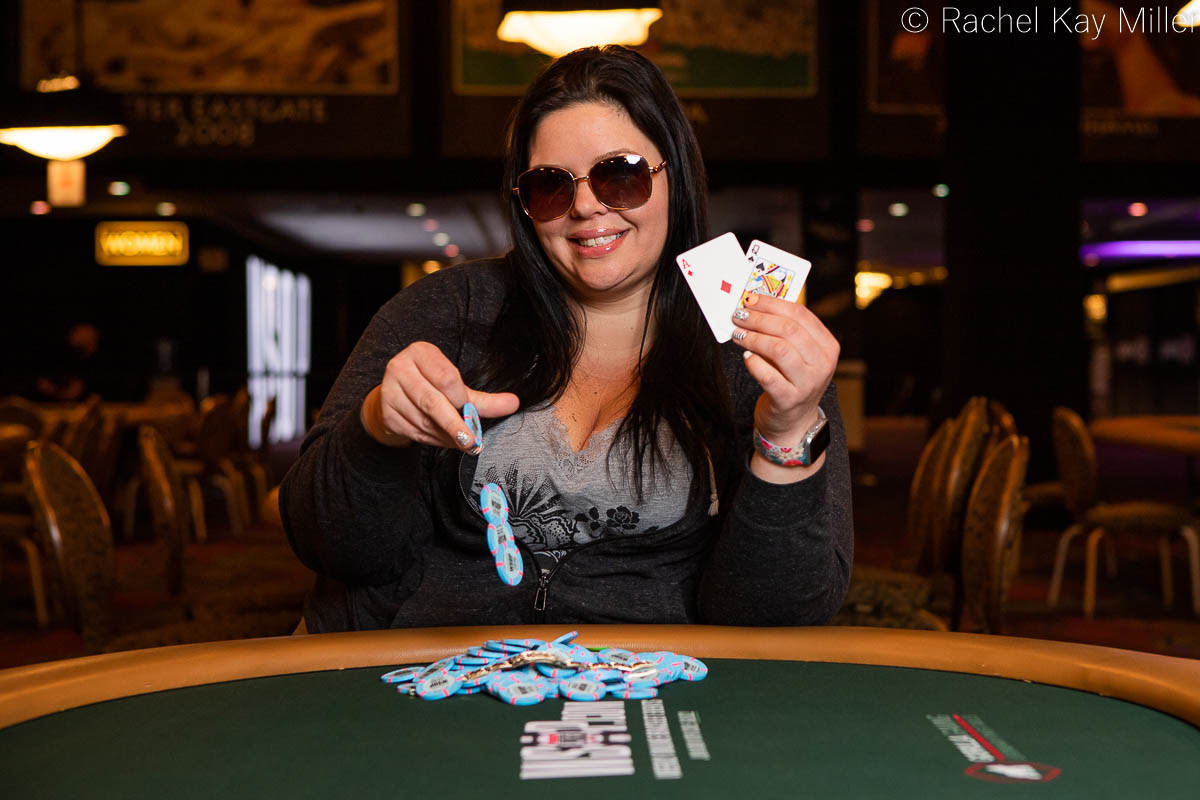 Kolev Turns $1,500 Into $1.1 Million
Over the years there have been plenty of interesting outfits spotted at the tables, but on Day 23 of the series we saw perhaps the most interesting piece of poker attire ever witnessed... a KFC bucket worn as a hat.
This was an extremely bold move by the Bulgaria pro, Yuliyan Kolev, but it only earned respect as he cashed in $1,125,189 after outwitting the other 7,960 entrants. Support from the rail couldn't have been stronger, as his entire team joined him with the fast food headwear.
The Millionaire Maker victory makes Kolev a two-time WSOP champion and delivers the greatest score of his career, bringing his total earnings to $2,804,010. The final hand, saw Kolev defeat Oren Rosen heads-up with pocket aces prevailing against queen-jack, which secured an infamous WSOP victory and perhaps a sponsorship for deep fried chicken...
Fourth Bracelets: David Peters and Scott Seiver
David Peters and Scott Seiver have both grabbed their fourth WSOP titles this year. Seiver landed a cool $320,059 in Event #3: $2,500 No-Limit Hold'em Freezeout, while Peters added just a little to his bank balance, with a $1,166,810 score in Event #2: $100,000 High Roller Bounty.
Peters competed in the brand new event with only 45 other entrants, where every knockout was worth $25,000. Though the field was small, the names were huge... Peters duked it out with the likes of Phil Ivey, Ali Imsirovic, Dario Sammartino and ultimately faced Chance Kornuth heads up to battle it out for the win.
With such legends joining him at the table, it's no surprise Peters was ecstatic after defeating Kornuth:
"It's always nice to beat someone that's hot, and someone that is a great player," Peters told PokerGO. "It was nice to beat a player like that for sure."
It comes as no surprise this victory means so much, as it moves Peters to fifth place on poker's all-time money list, with lifetime earnings totalling $40,165,579.
Seiver, also one of the most infamous high-stakes players in the world, bagged his fourth piece of WSOP jewellery too.
In Event #3, Seiver topped a field of 752 entries to snag the win.
Alexander Farahi
joined him heads-up but was ultimately outplayed by the Ohio native, who now sits 23rd on the all-time money list.
Event #5: $500 Housewarming became the fourth largest live WSOP tournament of all time with a staggering 20,080 entrants. The mammoth field built a top prize of $701,215 and Henry Acain fought his way through the competition to bag his first ever WSOP gold bracelet.
On the final day, he battled against start-of-the-day chip leader Christian Taylor to secure pole position for the final table. It was smooth sailing for Acain, who used the big stack to bully his way round the table. By the final hand he held a major chip lead and was able to crack Jared Kingery's pocket aces to take the victory.
Dan Smith Wins First-Ever WSOP Bracelet
Dan Smith, long regarded as one of the best poker players without a WSOP bracelet, has finally broken the curse. He sits 7th on the all-time money list but had somehow never taken a World Series title before this year's Event #6: $25,000 Heads-Up Championship.
WIth 48 WSOP events to his name, it's no surprise that this victory was so important to Smith:
"I'm not typically a very sentimental person," said Smith. "I remember before the One Drop final table, everyone was like, 'how important is it for you to be playing for this bracelet?' and I was, 'I'm focused on the $10 million today.' Today it really is, and was about the bracelet."
Smith took home $509,717 after beating a field with the likes of
Jake Daniels,
Laszlo Bujtas
,
Alex Foxen
,
Jonathan Jaffe
, and
Dario Sammartino
. PokerGo streamed the heads-up showdown between Smith and
Christoph Vogelsang
, live from the Las Vegas Strip, where after a lengthy battle, Smith came out on top to take his first WSOP title.
Chad Eveslage and Jake Schindler Score High Roller Gold
High roller tournaments are always a hit at the World Series and this year saw the largest entry field in history for a high roller event. Event #8: $25,000 NL Hold'em High Roller hosted 251 players, all with hopes to bag the top prize of $1,415,610. But Chad Eveslage came out on top and was joined by Jake Schindler as runner up, who bagged a cool $874,915.
Schindler also made his way onto the felt for Event #12: $50,000 NL Hold'em High Roller where he landed his first ever gold bracelet and the $1,328,068 prize.
The two results put Schindler atop the WSOP Player of the Year leaderboard and the 2022 PGT leaderboard, as well as placing him 11th on the all time money list. Not bad for a week's work...
2022 World Series of Poker - Results So Far
| | | | | | |
| --- | --- | --- | --- | --- | --- |
| # | Event | Entrants | Winner | Prize | Runner-up |
| 1 | $500 Casino Employees No-Limit Hold'em | 832 | Kate Kopp | $65,168 | Wyatt Frost |
| 2 | $100,000 High Roller Bounty No-Limit Hold'em | 46 | David Peters | $1,166,810 | Chance Kornuth |
| 3 | $2,500 Freezeout No-Limit Hold'em | 752 | Scott Seiver | $320,059 | Alexander Farahi |
| 4 | $1,500 Dealers Choice 6-Handed | 430 | Brad Ruben | $126,288 | Jaswinder Lally |
| 5 | $500 The Housewarming No-Limit Hold'em | 20,080 | Henrieto Acain | $701,215 | Jared Kingery |
| 6 | $25,000 Heads Up No-Limit Hold'em Championship | 64 | Dan Smith | $509,717 | Christoph Vogelsang |
| 7 | $1,500 Omaha Hi-Lo 8 or Better | 1,086 | Amnon Filippi | $252,718 | Matt Vengrin |
| 8 | $25,000 High Roller No-Limit Hold'em | 251 | Chad Eveslage | $1,415,610 | Jake Schindler |
| 9 | $1,500 Seven Card Stud | 329 | Alex Livingston | $103,282 | Daniel Weinman |
| 10 | $10,000 Dealers Choice 6-Handed Championship | 123 | Ben Diebold | $299,488 | Mike Gorodinsky |
| o1 | $5,300 No-Limit Hold'em High Roller Freezeout | 218 | Norbert Szecsi | $288,850 | Tony Dunst |
| o2 | $500 No-Limit Hold'em Big $500 | 1,213 | Manig Löser | $127,153 | Brian Battistone |
| 11 | $600 No-Limit Hold'em Deepstack | 5,715 | Raj Vohra | $335,286 | Qing Liu |
| 12 | $50,000 High Roller No-Limit Hold'em | 101 | Jake Schindler | $1,328,068 | Brek Schutten |
| 13 | $1,500 Limit Hold'em | 522 | Michael Moncek | $145,856 | Ben Ross |
| 14 | $1,500 No-Limit Hold'em 6-Handed | 2,392 | Leo Soma | $456,889 | Thomas Schultz |
| 15 | $10,000 Omaha Hi-Lo 8 or Better Championship | 196 | Daniel Zack | $440,757 | Dustin Dirksen |
| 16 | $3,000 No-Limit Hold'em | 1,240 | Stefan Lehner | $558,616 | Toby Boas |
| 17 | $2,500 Mixed Triple Draw Lowball | 309 | Dominick Sarle | $164,243 | Jerry Wong |
| 18 | $1,000 Freezeout No-Limit Hold'em | 2,663 | Bryan Schultz | $330,057 | Young Sik Eum |
| 19 | $25,000 High Roller Pot-Limit Omaha | 264 | Tong Li | $1,467,739 | Fabian Brandes |
| 20 | $1,500 Limit 2-7 Lowball Triple Draw | 350 | Denis Nesterenko | $108,250 | Von Altizer |
| 21 | $1,500 Monster Stack No-Limit Hold'em | 6,501 | Mike Jukich | $966,577 | Mateusz Moolhuizen |
| 22 | $10,000 Seven Card Stud Championship | 95 | Adam Friedman | $248,254 | Jean Gaspard |
| 23 | $3,000 Limit Hold'em 6-Handed | 213 | Jeremy Ausmus | $142,147 | Michael Rocco |
| 24 | $1,000 FLIP & GO No-Limit Hold'em | 1,329 | Christopher Chatman | $187,770 | Rafi Elharar |
| 25 | $800 No-Limit Hold'em Deepstack | 4,062 | Rajaee Wazwaz | $358,346 | Robert Crow |
| 26 | $10,000 Limit Hold'em Championship | 92 | Jonathan Cohen | $245,678 | Kyle Dilschneider |
| o3 | $400 No-Limit Hold'em Ultra Deepstack | 1,641 | Brian Altman | $110,662 | Eric Salazar |
| 27 | $1,500 Shootout No-Limit Hold'em | 1,000 | Michael Simhai | $240,480 | David Dowdy |
| 28 | $50,000 High Roller Pot-Limit Omaha | 106 | Robert Cowen | $1,393,816 | Dash Dudley |
| 29 | $1,500 No-Limit 2-7 Lowball Draw | 437 | Maxx Coleman | $127,809 | Thomas Newton |
| 30 | $1,000 Pot-Limit Omaha 8-Handed | 1,891 | Daniel Weinman | $255,359 | Jamey Hendrikson |
| 31 | $10,000 Limit 2-7 Lowball Triple Draw Championship | 118 | Brian Hastings | $292,146 | Eric Wasserson |
| 32 | $1,500 H.O.R.S.E. | 773 | Steve Albini | $196,089 | James Morgan |
| 33 | $3,000 No-Limit Hold'em 6-Handed | 1,348 | Nino Ullmann | $594,079 | Timothy Flank |
| 34 | $1,500 Freezeout No-Limit Hold'em | 1,774 | Justin Pechie | $364,899 | Samuel Bifarella |
| 35 | $2,500 Mixed Big Bet Event | 281 | Lok Chan | $144,338 | Drew Scott |
| 36 | $1,500 Seven Card Stud Hi-Lo 8 or Better | 471 | Ali Eslami | $135,260 | Chris Papastratis |
| 37 | $1,500 Millionaire Maker No-Limit Hold'em | 7,961 | Yuliyan Kolev | $1,125,189 | Oren Rosen |
| 38 | $10,000 No-Limit 2-7 Lowball Draw Championship | 121 | Pedro Bromfman | $294,616 | Scott Seiver |
| 39 | $3,000 Pot-Limit Omaha 6-Handed | 719 | Fabian Brandes | $371,358 | Leonid Yanovski |
| 40 | $10,000 Seven Card Stud Hi-Lo 8 or Better Championship | 137 | Daniel Zack | $324,174 | David Funkhouser |
| 41 | $1,000 Super Turbo Bounty No-Limit Hold'em | 2,227 | Ramsey Stovall | $191,223 | Timothy Heng |
| 42 | $100,000 High Roller No-Limit Hold'em | 62 | Aleksejs Ponakovs | $1,897,363 | Phil Ivey |
| o4 | $1,000 Pot-Limit Omaha 6-Max | 470 | Matt Szymaszek | $141,705 | Greg Koutelidakis |
| 43 | $500 Freezeout No-Limit Hold'em | 4,786 | David Perry | $241,729 | Chris Moorman |
| 45 | $1,500 Pot-Limit Omaha | 1,437 | Phil Hui | $311,782 | Daniel Tordjman |