Poker news | Jun 28, 2022
Eric Smidinger Wins 2022 WSOP Seniors Event
By RTR Jamie
This year's World Series of Poker (WSOP) $1,000 Seniors Championship saw plenty of drama and amazing poker with Eric Smidinger coming out on top after the 5 days.

Eric Smidinger managed to make a comeback against Ben Sarnoff, the pair went head to head in a two and half hour heads-up battle. Smidinger took home a huge $694,909 prize and his first ever WSOP gold bracelet.
He also finished 275th in the 2022 $1,500 Millionaire Maker tournament.
The WSOP 2022 was Smidingers third WSOP appearance with a total of 10 cashes, four of which came from this year's WSOP event.
The final table event was eventful, with legendary poker player Kathy Liebert, she was unfortunately short-stacked when she decided to go all in from the hijack. She was met with pocket aces from Sarnoff in the cutoff.
Biagio Morciano was next to fall, he held ace-jack but his match was met with Smidingers pocket eights, after the flop, things were not looking good meaning he had to surrender to fourth place.
In third place was Charles Mitchell, also known as Mitch. Despite entering the final table as the short stack, he managed to fight his way into third place after a three-way all in pot. Sadly, Mitch's ace-king was the worst of a good bunch with Sarnoff's ace-king beating Smidinger's pocket sixes.
The chip leader for all of Day 5, Sarnoff, fell short at the end. Sarnoff's suited ace-king couldn't catch up to Smidinger's pocket eights, leaving him visibly disappointed in second place.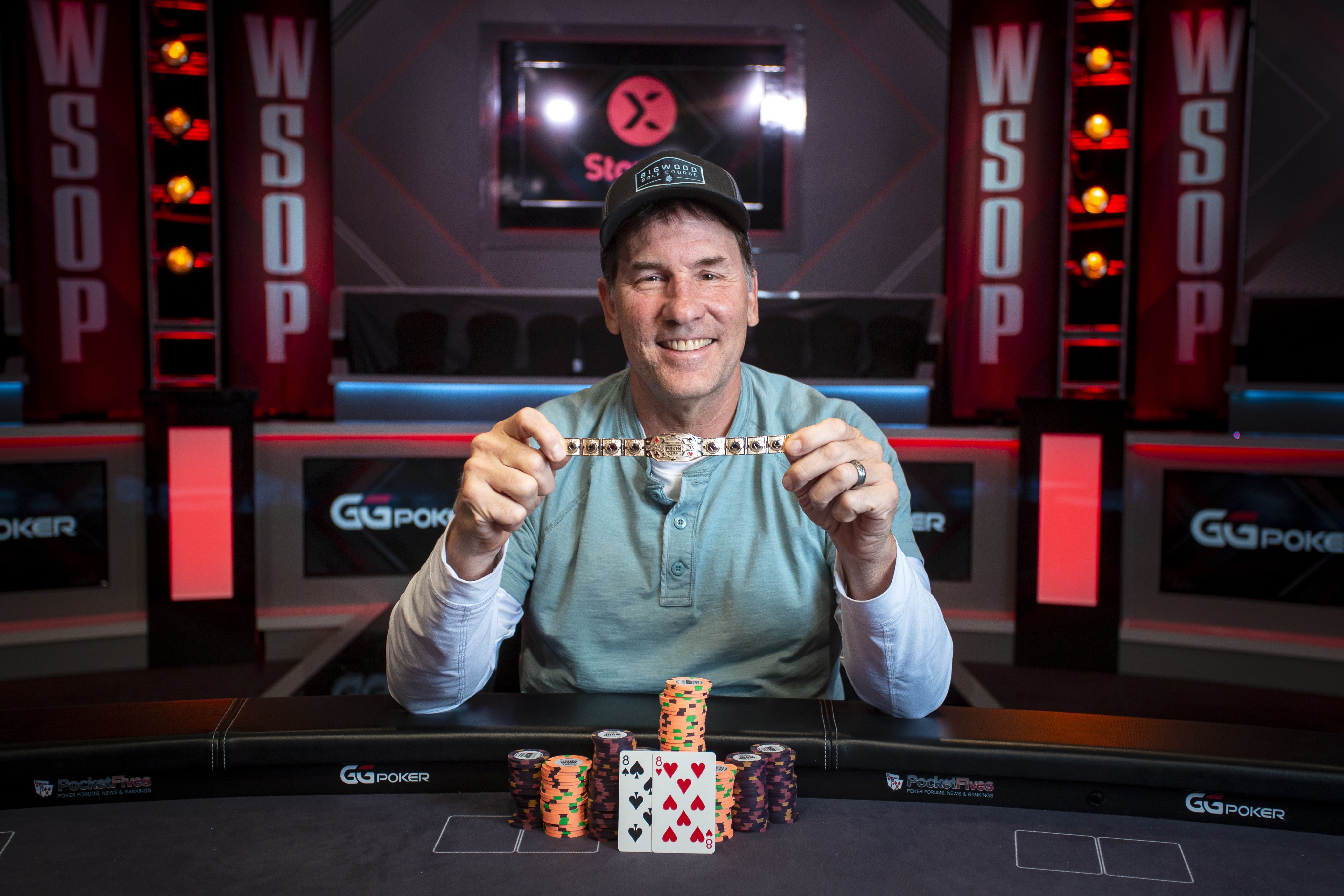 Event #47 - Senior Championship Final Table Results
| | | | |
| --- | --- | --- | --- |
| PLACE | PLAYER | COUNTRY | PRIZE |
| 1 | Eric Smidinger | United States | $694,909 |
| 2 | Ben Sarnoff | United States | $429,420 |
| 3 | Charles Mitchell | United States | $323,057 |
| 4 | Biagio Morciano | Italy | $244,664 |
| 5 | Kathy Liebert | United States | $186,541 |

Smidinger had a heart warming response to his victory he said the following to pokernews,
"This is a dream. I love it. This morning, coming in, I knew I had just as good of a chance as anybody. I'm excited… It's going to be cool to go back to Blackhawk. I live in Colorado (Evergreen) and play there regularly, including tournaments. It'll be nice to sport the bracelet".
He then went on to explain how his win is up there as one of his greatest moments with the help of being surrounded by his supportive family.
"Uh. Wow. You know, family is so important... (voice breaks) After that, wife, kids, making a family... We have three great kids, five grandkids. After all that, married to a loving partner, a life-long loving partner, this is up there. This is, for sure, a bucket-list item, and I hope to get another one and I'll probably play the Main Event. I can afford it".
To add to the wholesome success, Smidinger's first thoughts on what to do with the money went straight to his wife and how she will now be able to retire sooner than she expected.
"My wife, Betsy, she's retiring soon. She was planning to retire within the year and now that date will probably come a little sooner".
Smidinger then went on to tell poker news all about his journey leading up to this moment.
"It's wonderful. I started playing poker in high school, went to Jim Boyd's (Prince's) home game in Maryland with my buddy Gabe (who was on the rail). We used to play tournaments there all the time. Then the casinos came, I didn't start playing tournaments in casinos until 2006. I had minor success but then when work decreased, poker increased and I could study the game. The last few years have been really good".
He had played in a total of six events this year and cashed in at four and he had similar experiences the years before, however, this tournament he was full of luck.
It wasn't just a day of action for Smidinger, with Joao Simao winning his second career WSOP gold bracelet and Simeon Spasov winning event 49 after a come-from-behind win in No-Limit Holdem, and there is still so much more excitement to come for the players that remain.