Poker news | Jul 29, 2022
Celebrities That Play Poker
By RTR Jamie

Poker isn't just for professionals, it's a game that can be played by anyone, with the World Series of Poker (WSOP) and other poker tournaments being open to all, it attracts anyone from A-list celebrities to sports stars!
Of course, you need money to compete in major tournaments, and that is something celebrities are likely to have, so there's no surprise they want to get involved and make some more.
Here are some of the top celebrity poker players that you may or may not know played the game!
Jay Scott Greenspan, who is known professionally as Jason Alexander and most famous for his role as George Costanza in the TV series Seinfeld, is certainly a poker lover. He is known to play both online poker and live poker.
He has appeared regularly on a few different poker TV shows, including Celebrity Poker Showdown where he won $500,000 for charity. He also beat Kevin Pollak in a WPT Charity tournament in 2020, raising $125,000 for the charity, World Central Kitchen.
Alexander's total live earnings is around $30,000 and is yet to win a poker tournament. However, it seems that his most recent appearance playing poker was at the WPT charity event in 2020.
After starring in a film as a poker player, Matt Damon decided to test out the game for himself in real life.
Despite keeping his poker playing hidden from the public, he has made a few tournament appearances, including the $5,000 Ante Up for Africa Charity event in 2009.
Damon starred in the film 'Rounders', where he played a law student and professional poker player, perhaps that is where he learnt his skills to play in the WSOP.
One of the world's most famous footballers doesn't just have skills on the pitch but at the poker table too.
He first made his public poker appearance in 2016 against Sara Sampaio, a Portuguese model in a PokerStars duel of No Limit Texas Hold'em, he also played against the British actor, John Boyega in another duel for PokerStars.
From then on he has made a few different appearances at the EPT, including this year's Monte Carlo Cup. He also made a cash at this year's WSOP in Las Vegas, finishing in 49th place out of 2,227 entries for $3,959 in winnings.
Best known for his role as Spider man, actor Tobey Maguire has a glamorous history with poker.
Between 2005-2009, Maguire used to set up frequent high stakes poker games with the likes of Ben Affleck, Leonardo DiCaprio and Matt Damon. He would set these up with writer Houston Curtis, who claimed Maguire likely made up to 30-40 million dollars from the games within the four years they were being run.
He has made around $220,000 in live earnings and has won one tournament event.
Maguire has made a few appearances at the WSOP, but his most memorable was at the 2007 WSOP, where he won $39,445 in the World Championship No-Limit Holdem.
Oscar nominated actor and filmmaker, Ben Affleck has worked out how to make a lot of money in a range of different industries, including poker.
Affleck has a total of $360,400 in live poker earnings, making him 6,33rd in the all time money list.
He has attended the WSOP numerous times to participate in the charity tournament, Ante Up for Africa along with fellow actor Matt Damon.
At the California State Championships he cashed a total of $356,400, just a year before that he had won $4,000 at the WPT Hollywood Home Game of No Limit Hold'em.
Affleck had taken training sessions from professional poker player Daniel Negreanu, so it is no surprise he had the skills for these cash wins.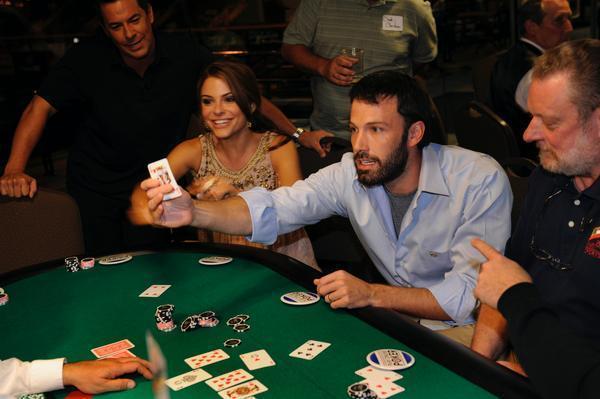 American-Canadian Actress, Jennifer Tilly is a very successful celebrity poker player, she holds one WSOP Bracelet and has a huge total of live earnings which is currently at $1,034,38.
The last known WSOP event that she cashed at was in 2019, she played at a total of five events, finishing in 12th place in the $1,500 Razz event and 24th in the $10,000 No Limit Hold'em Championship 6-handed where she won a total of $23,315.
Tilly was previously married to the late Sam Simon who was also an avid poker player, he had a total of $362,900 in live earnings. Sadly, he passed away in 2015.
American comedian and actor, Kevin Hart is also an active member of the poker world and was once sponsored by the well known poker rooms partypoker and PokerStars.
Hart has made a total of $47,828 in live earnings, with his most recent appearance at the WSOP in 2014 earning him $4,783 of the total. His most successful tournament appearance was at the 2010 Larry Flynt's Challenge Cup, where he finished in first place and won $20,265.
It is unclear if he has made any more tournament appearances but he is still playing poker, in 2021 he played at the PokerStars Championship Cash Challenge where he won a huge $40,000… by accident.
Raymond Romano is a famous comedian, actor, and screenwriter. He is best known for his role in Everybody Loves Raymond, where he played Ray Barone and received an Emmy Award.
Romano fell into the public poker world in the 00's, in 2008 he made an appearance at the World Series of Poker for the Ante Up for Africa Event, where he made a total of $18,176 in 8th place for the charity.
Shannon Elizabeth is an American actress, model, and poker player, she is best known for her roles in American Pie and Love Actually.
Elizabeth is currently running an animal rescue charity so does not have a lot of time now to play poker, but in 2006 she was named one of the leading celebrity poker players at the time.
She has a total of $235,866 in live earnings, but her most valuable win was when she finished third at the NBC National Heads-Up Championship in Las Vegas and won $125,000.
Elizabeth has made a few WSOP appearances but is yet to win a bracelet, however, she did finish 2nd at the Ante Up For Africa Charity Event in 2010.