Poker news | Oct 20, 2022
What are the best cards for poker?
By RTR Alex
For any avid poker player, finding the best deck of playing cards can be top of the priority list when hosting your own game nights. But searching through the thousands of options online can be a tough task, to say the least.
Although they may all include an ace of spades and a couple of jokers, each deck of cards will vary depending on who has manufactured them. Some may be purpose built for magic tricks, while others are specifically designed for poker games. There are a range of materials used, and they'll also vary greatly in shape and style.
So today we're going to help you out by covering a broad range of card decks, from the highest possible quality to the best bang for your buck, plus plenty of others in between.
Best Overall Deck: Kem Poker Arrow Playing Cards
Kem has long been known for producing the best playing cards in the industry - often viewed as the gold standard for casinos and poker tournaments.
Their signature deck is this Arrow design set, which comes in both blue and red. Each deck contains 53 plastic coated cards - covered in 100 percent cellulose acetate - a naturally sourced bioplastic. The cards are firm yet flexible, resistant to scuffs and tears and also easily washable for the times you spill a drink on the felt.
Kem are top of the line in quality but not overly expensive. A great choice all-round.
Best Deck Design: Theory11 Contraband Playing Cards
Now there are many strong contenders in this category. Plenty of card companies make decks with quality designs, but Theory11 consistently produce some of the coolest looking cards in the game. Although most of their decks are geared towards the flare of card tricks, they can also add something a little more interesting to your poker game.
The paper cards are made in the USA on FSC-certified paper derived from sustainable forests using vegetable-based inks, so you'll have no bad conscience buying this deck. They also feel great in-hand and aren't too expensive. For £12.95 on amazon, these are well worth the money.
So, here are my personal favourites - the Theory11 Contraband Playing Cards.
Of course, you may not be a fan of the Contraband deck - style choice is personal after all. So, here are a couple of runners up that are a little different.
Ellusionist come in a close second-place in this category. They also deliver unique card designs on a regular basis, including their Prohibition set - containing a range of decks all dedicated to a different alcoholic drink.
If you're looking for something a little more 'artsy', check out the Art Deco style by TTCamazingcrafts on Etsy. This deck of cards features a special Art Deco design for both the back of the cards and the faces - the picture cards look seriously great.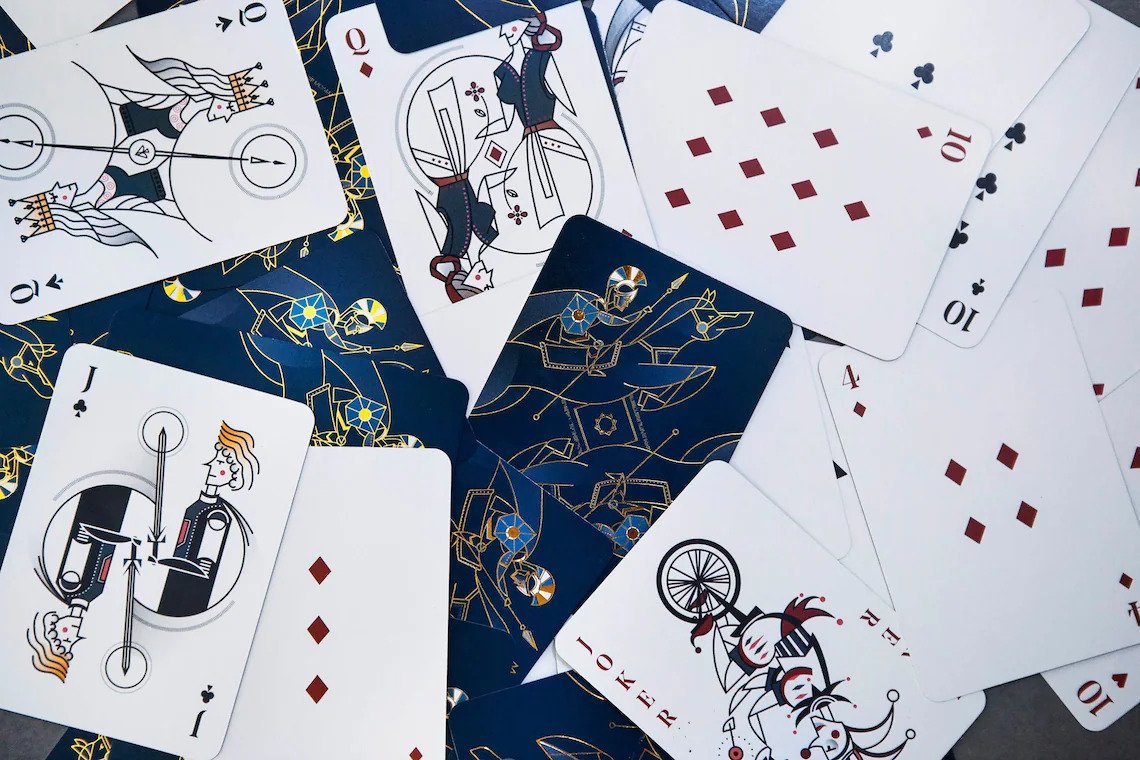 Best Budget Deck: Bicycle Standard Playing Cards
As one of the most famous playing card brands in the world, it's no surprise Bicycle has made this list.
They're well known for producing high quality playing cards at very affordable prices. Many of their decks come with an air cushion finish which makes them easy to shuffle and long-lasting - perfect for hosting poker at home.
Besides the quality of the cards, the simple look is a classic in the poker industry. Everyone who has ever dabbled in poker, or even your average card game, will be familiar with the iconic design of the winged bicyclist on the back of the cards.
If you're looking for quality, at the fraction of the price you may find elsewhere. Look no further. The Bicycle Standard Playing Cards are your best bet.
Best Plastic Deck: Copag 1546 Plastic Playing Cards
Copag playing cards are the official decks used for the World Series of Poker, so that should give you some idea of just how great this brand is. Responsible for producing cards for the best poker players in the world, you can trust you'll get a top-of-the-line experience when you go with Copag.
Copag 1546 Plastic Playing Cards are 100% plastic, providing a smooth slide and perfect texture for supreme handling.
If you've got any pros in your group, they'll definitely appreciate the quality of this deck. It's a great choice for the more experienced players.
Best Deck Material: Carbon Fibre Playing Cards
Now these may not be the most practical playing cards, but this deck will add a little something extra to your gambling experience (if you're willing to splash the cash).
These Carbon Wolf Carbon Fibre Playing Cards are lightweight, strong and also have a great design. So, if you want to make poker night a little more interesting, and you can afford the price tag, why not try this carbon fibre deck.
Best Cheaters Deck: Bicycle Rider Backs
As I mentioned before, everyone knows Bicycle cards, the design is familiar to the eyes of any poker player - which is why this pack is perfect for cheating. No one will second guess it!
If you take out the Contraband or Carbon Fibre deck, no doubt the other players at the table will want to take a hard look at the unique design. But the Bicycle is a trusted manufacturer, so if you need an upper hand to beat your friends on game night or you're simply looking for some help with a few card tricks you haven't quite mastered - then this Bicycle Rider Back Marked Deck is the one for you.
The marks are easy to identify, so no special code or pattern needs to be learned. Plus, Bicycle deliver the same quality as they do with the rest of their decks.
Best Large Print Deck: Bicycle Large Print Playing Cards
Whether you have impaired vision or you're just trying to swindle your grandad for a bit of extra cash - these Bicycle Large Print Playing Cards are perfect.
The text on these card faces are 1.5" tall and the graphics are also in a bold, simple design, so the cards are easy to identify.
The deck is also made from durable, washable plastic, so you should have no trouble keeping it in good condition. What could be better?