Poker news | Sep 22, 2023
Is poker making a comeback?
By Rtr Lucy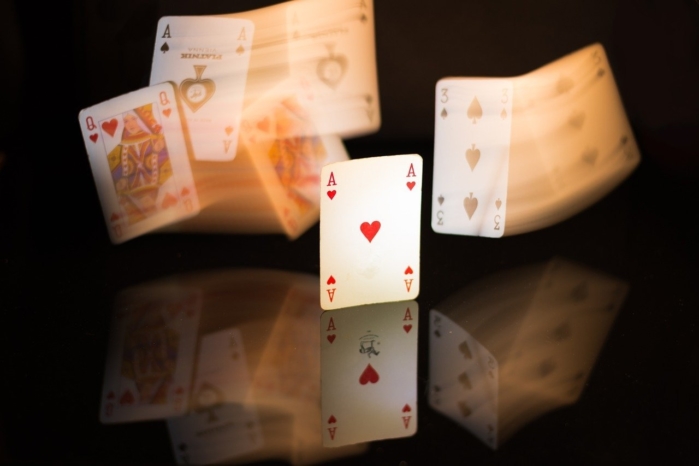 In the world of cards and chips, there's a game that's proven time and again that it can adapt, evolve, and find its way back into the hearts of players across the globe. Poker, in recent years, has experienced a resurgence like never before. The reasons behind this poker boom are numerous and complicated, but it's safe to say that the game is more popular now than it has been in a long time. We'll analyse the trends, patterns, and pivotal moments that have propelled poker back into the limelight. But this isn't just a retrospective. It's a forward-looking exploration, a peek into what the future holds for the game we love. Let's dive into what has fuelled this resurgence and whether poker's newfound popularity is likely to endure.
Before getting into poker's performance in recent years, we first have to understand why it fell from favour in the first place.
Poker is a game that goes back as far as the 1700's but didn't really hit the mainstream until 2003 with one particular figure. Enter - Chris Moneymaker, the face of the 2000's poker renaissance. Prior to 2003 Poker had often been a fringe game practised by competing professionals or casually played now-and-again by semi-interested individuals looking for a way to pass a Friday night. But after Moneymaker won his entry to the World Series of Poker with an $86 ticket, secured through a PokerStars satellite tournament. He went on to win the whole thing, walking away with $2.5 million and making $2,499.914 in profit. His success story quickly spread, reaching the ears of amateur players across the globe and letting them know that poker was not reserved for the professional elite but was a feasible skill-based way for anyone to earn money.
Thus sparked the golden age of poker, where casinos swelled, online traffic soared, and every Tom, Dick and Harry wanted to shoot their shot at winning the pot. Poker operator's and players alike had never had it better. But whilst poker's glory-days were splendid, they were short lived. 2006: In came George Bush with his Unlawful Internet Gambling Enforcement Act (UIGEA) that would change everything.
This new law saw an abrupt end to the majority of US online poker operators, those that did continue activity saw harsh repercussions as their operations were seized. And so the US poker scene both online and offline quickly began to fizzle down, as poker was once again reduced to a fringe localised activity or one-off special treat. As the US was the birth ground of poker and served as the overwhelming majority of its consumer base at that time, this was a big deal.
Poker was still a new and underdeveloped interest across the rest of the world, and even in more mature markets like Europe where interest was sustained until the 2010's, Sports betting began to draw people away from their poker tables and many players were turned off after a series of mergers saw the online poker market turn into more of an oligopoly, choking smaller competitors out of the scene. And whilst online poker had begun to grow in popularity in emerging markets like Asia, it would take a long time for interest amongst this demographic to match what was lost from their American and European markets. Mid 2010's and the future of poker was looking bleak, but against expectations, its comeback was on the horizon. So, what caused this new boom? Let's take a look.

There were a myriad of factors that combined to promote this growth, starting with the legalisation and reduced regulation of both online and offline poker in the last 10 years across the globe
In the last 10 years, all of these countries have either legalised or deregulated poker in some way, whether that be online or offline:
Austria (2019)
Belgium (2019)
Denmark (2012)
Estonia (2011)
Germany (2021)
Latvia (2011)
Lithuania (2011)
Netherlands (2021)
Portugal (2015)
Spain (2011)
Sweden (2019)
Switzerland (2021)
But of particular importance, is America's recent shift in their harsh stance in online gambling. Whilst the UIGEA is still technically in force, rather than a strict nationwide ban, instead the decision has fallen into the hands of the states. And whilst only six states so far have legalised online gambling and poker, these being: Nevada; Delaware; New Jersey; Pennsylvania; West Virginia; and Michigan, it's certainly a promising start. In 2012, after a New York judge ruled that poker does not count as gambling under federal law because it a primarily a game of skill rather than chance and Nevada was quick to swoop in, legalising online poker play less than a year later.
Whilst it's only six states so far that have legalised online poker, don't underestimate the value of this to the online poker market. Out of around 100 million global poker players, 60 million of them are based in the US and with more states like New York, Texas and California (with some of the largest populations in the USA) also considering legalising online poker, the US poker market is surely only going to keep growing. Couple this with more countries across Europe legalising, plus emerging markets in Latin America, Brazil now being one of the biggest poker-playing countries in the world, and Asia, with a rapid rise in poker interest in countries like Thailand, Vietnam, plus Chinese gambling hub Macau, and the future of Poker looks bright.
But after nearly a decade of online poker being illegal in the US and the visibility of in-person poker matches slowly disappearing, simply re-legalising it did not create quite the demand boom the poker world might have been expecting. It had fallen beneath the radar and was going to take a good deal more to put it back on the map, both in the US and globally as well. So, what were the other factors that brought about this poker resurgence?
Despite falling somewhat under the radar over the last decade, surprisingly, poker has been reaching new demographics. Poker has traditionally a male-dominated past-time but it seems like the tables are turning somewhat as more women than ever are getting in on the action. Over the last 5 years, more women than ever have taken up poker, beating men in new player buy-ins at 23% compared to men's 22% and in 2022 alone there was a 22% increase in female poker players across Britain. This is particularly good news for online poker, as live-poker venues can often be male-heavy and intimidating for women to enter, whereas online cash games are a more popular format amongst women than men. This increased inclusivity and diversity of the poker realm shows a promising future for poker that appeals to all, rather than just a few.
But this increasing diversity doesn't just stop with women. Whilst there were fears in the 2000's, when poker's visibility shrunk enormously, that poker could die out with its die-hard fans, it seems instead to be reaching a younger audience than ever before.
The rise of social media has played a huge role in attracting the young generations, particularly video content or streaming sites like twitch and YouTube where poker content videos, both educational and entertaining, have piqued the interest of seasoned players and newbies alike. Poker can seem like an intimidating game to try and wrap your head around at first, but social media has created easy and accessible videos demystifying poker and breaking down the rules in layman's terms, teaching players the tips and tricks of the trade. Poker networks on these sites post professional tournaments and compilation videos showing off poker's potential prosperity.
YouTube streamers like Doug Polk, Lex Veldhuis, and Jaime Staples have helped to popularise the game in recent years. But one man has attracted the interest of young people like no other. In 2021, Youtube star MrBeast hosted a $10 million poker tournament and streamed it live on twitch. The livestream was viewed by more than 200,000 viewers and broke the generational boundaries of poker like never before. He was since made a lot more poker video's, one of his tournaments last year garnering 1.6 million views!
Another fear of the 2000's was that as poker shifted more online, the social aspect would be largely lost, and interest would decline. But with the global spread of social media, poker players can now connect with each other like never before, building online communities and a more vibrant, engaging poker landscape. Now over 40% of online poker players are between the ages of 18-25. To match this trend, poker operators have poured increasing effort into the development and perfection of their apps, to appeal to an audience who prioritises ease of use and convenience above everything else. These free-to-play poker apps have drawn in millions of new players, helping to create more frequent real-money gamers and has played an important role in poker's resurgence. If 20% of all new players become regulars, and you used to only draw in 100 new players a month, then you only got 20 new regular players. Start drawing in 1,000 new players a month, and all of a sudden, you've got 200 new regular players instead. It's simple maths.
Shining the spotlight on poker
Capitalising off the rise of social media, the influence of poker professionals has begun to spread. The successes of iconic players such as Phil Ivey, Daniel Negreanu, and Justin Bonomo have kept the spotlight on poker and inspired countless others to take up the game. Some of the most popular players are known for their success, their outspoken personalities, or their ability to connect with fans. Social media platforms like twitter and Instagram, as well as streaming services have allowed fans to follow their favourite players closely and to watch them play in real time, making the game even more accessible and exciting.
Phil Ivey Home Game (flickr)
On top of that, big poker tournaments have become magnetic for both players and viewers due to their colossal prize pools, often offering multi-million-dollar rewards that fuel players' ambitions for success. With the rise of satellite tournaments these events also serve as the breeding ground for captivating "Cinderella stories," where unknown amateurs ascend to poker stardom by winning against the odds, inspiring countless others to chase their poker dreams. With ever increasing prizes, huge promotional freerolls offered on poker sites and major tournaments like the World Series of Poker (WSOP) and the World Poker Tour (WPT) have become a spectacle to behold. They have evolved from the televised tourneys of the 2000's to the live-streamed battles of the modern age, with the suspenseful hole-card camera providing an intriguing glimpse into players' hidden strategies. Moreover, the global appeal of these tournaments, drawing a diverse international field of competitors, has intensified the excitement and competitiveness on display.
Whilst both popular players and tournaments have certainly played their role and helped cement interest from casual players and turn them into real-money competitors, unless you're already in the scene it's unlikely you would have heard much about either. This brings us to the event that had the biggest impact on the resurgence of poker above all else, possibly more important than all the other factors combined. The pandemic.
Nothing propelled poker back into the fold quite like covid-19. With little to do and nowhere to go, people suddenly had all the free time in the world to find a new hobby, and as the world's economies struggled, people were also looking for new ways to make money. But the interest must be there for people to start playing in the first place, so where did this come from? Well, combine all the previous factors I mentioned with the fact that sports betting, the thing that turned many heads away from poker in the 2000's and 2010's, suddenly disappeared with the extended pause on most sporting activities, and poker was primed for a comeback.
Sports betting and casino betting are still the dominant players in the gambling industry, but with interest in poker nearly tripling since the start of lockdowns in 2020, there's no denying the impact the pandemic had on kickstarting the poker industry once again. And even live-poker games, which for obvious reasons didn't fare so well in the pandemic, have benefitted in the long-run. Live poker attendance has surged in 2023, with major tournaments drawing record-breaking crowds. For instance, the 2023 World Series of Poker Main Event saw over 6,600 entries, the largest in over a decade.
There is simply no denying that the popularity of poker grew in the 2020's. In 2020, the online poker market experienced a remarkable 255% increase in first-time poker players and a 43% increase in online poker traffic. The 2021 World Series of Poker Main Event drew over 6,600 participants, marking the event's largest field since 2010. Additionally, the '2022 Triton Million - A Helping Hand for Charity' tournament awarded an unprecedented first prize exceeding $20 million, further cementing poker's reputation as a high-stakes endeavour. But the real question is - will this popularity last?
Well, the short answer is yes, I believe it will. Now according to GameIntel, an independent industry monitor, online poker traffic has seen a decline of about 10% from its 2020 peak, but what did we expect? People have returned to work; other forms of entertainment have opened back up and it's simply not realistic to expect people with busy lives to be able to spend as much time engaging in multiple-hour tournaments as they did when they were locked at home. However, whilst online poker traffic has tapered off since the pandemic, it still remains above pre-pandemic levels, where an average decrease in global poker revenue was experienced yearly. Despite the return of sports, the renewed pandemic interest in poker did not necessarily fall away, many stayed.
While it's impossible to predict the future with certainty, the current indicators are positive. Poker's appeal shows little sign of disappearing, and the surge in live tournament attendance and stable growth of online traffic suggests that the love for the game is still alive. Take into consideration also, the growth of new poker markets across the world and revival of old ones, and the future of poker looks brighter than it has in a long time.
In this modern age there are problems that the poker industry will have to overcome. With a world of information at our fingertips it is easier for players to get better, faster if they choose. Skilled players clear the tables against newbies, leaving new players often feeling discouraged from playing again. Some operators have tried to bring in restrictions on seasoned players or separation via skill level but that can also turn off the more advanced players who are looking to play to win against easier pickings. It's an issue poker operators will have to find a way to navigate, but poker's greatest virtue has always been its adaptability over time. Through the technological evolution and the rise of alternative competition, poker has found a way to both retain its loyal followers and create new ones. I see no reason why that would change.
While 2023 has presented mixed results in terms of online and live poker, the overall outlook is promising. A diverse player base, the impact of social media, and a surprising resurgence during the pandemic have built a hopeful future for poker in the coming decades. And for any of the doubters out there, the latest market research predicts the worldwide online poker market to experience a compound annual growth rate of 13.5%, growing from $85.4 billion in 2022 to exceed $237.5 billion by 2030! Challenges lie ahead, but history tells us that poker's adaptability is its strongest suit. Whatever cards are dealt, poker continues to evolve and thrive, reminding us that, in this timeless game, the chips are never truly down.