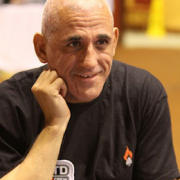 Simon Trumper
aka Aces
hometownSouth Kensington, London
birth date31 May 1963
Poker Facts
WSOP Money Finishes

3

England All-time Money List

52nd

Total Live Tournament Winnings

$1,204,120
Simon 'Aces' Trumper has a pair of gold and diamond aces which he uses to cap his cards, claiming they are a good luck charm.
Simon Trumper began playing poker in 1995 after he and a friend entered a £10 tournament during a night out in Reading (England). He got his first taste of gambling much earlier in life when he was expelled from secondary school for playing poker dice after a maths exam. Simon Trumper was often bullied at secondary school because of his surname. (Despite the word 'trump' having associations with card playing, in England particularly 'trumping' is also a commonly used term for breaking wind or passing gas.)

Trumper is perhaps best known for winning the second series of 'Late Night Poker', and later for being the runner-up of series four. He managed to finish in fourth place in the WSOP 2001 $3k No Limit Hold'em Event; and in fifth place in the 2005 WSOP $10k Pot Limit Omaha event, but he has never taken part in the World Poker Tour. He is considered a No Limit Hold'em specialist with an individual style, and a strength for astute reads.

Simon works at the Nottingham Poker Club "Dusk till Dawn" (www.dusktilldawnpoker.com) as host and Live Poker Director. He is an ardent anti-smoker and as such has pressed for smoking to be banned at all poker games. Trumper suffers from the hair-loss condition Alopecia.