Ya Poker
100% up to $500 Deposit Bonus
Worth 20% cashback! T&C's apply*
Terms & Conditions apply
Players from United Kingdom are accepted.
When the fun stops, Stop! 18+
Ya Poker rakeback
YaPoker.com debuted on the Winning Poker Network in 2013, joining a Network renowned for its outstanding customer service and impeccable payout reputation ever since it was launched way back in 2001.
YaPoker.com services all customers from Latin America providing some of the most exciting promotions on the online poker market.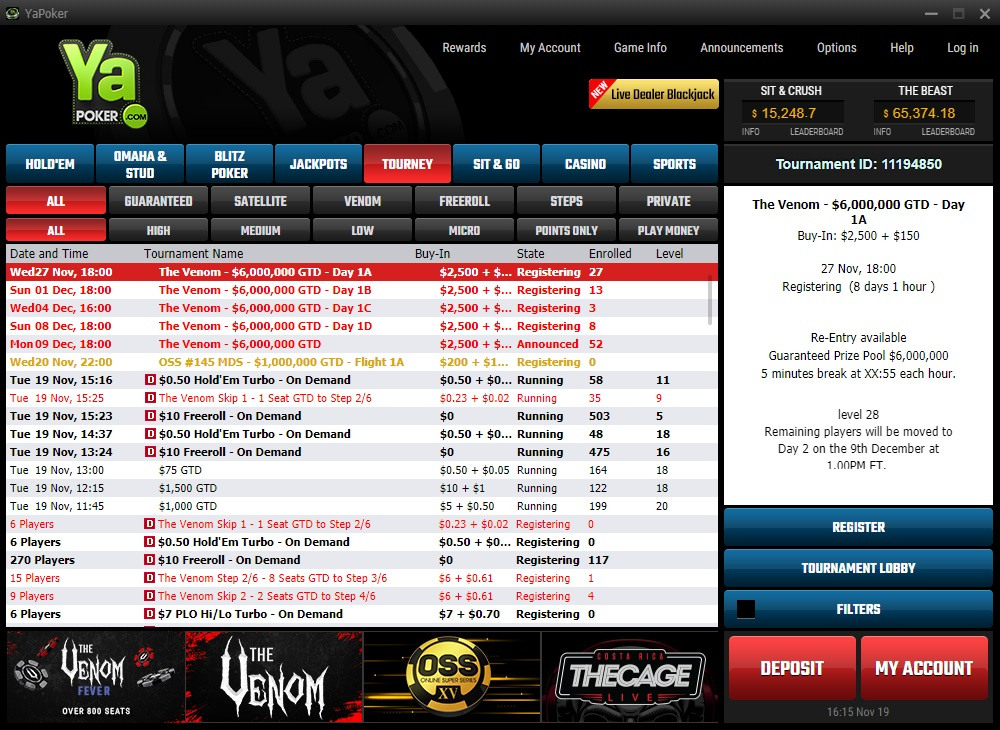 Ya Poker Rakeback
Players that sign up through RakeTheRake will receive 27% rakeback. You can switch to the VIP program below by contacting Yapoker here. Please note that it'll only be worthwhile if you rake enough to reach and maintain the Diamond VIP status.
For every $1 rake or $1 tournament fee you pay, you receive 5.5 Benefit Points (BP). The amount of BP you accumulate determine your VIP Level and the achievement awards you can receive during a calendar year. The achievement awards cost 1 Player Point (PP) and will increase your cashback with up to 11%. This is money you get on top of the VIP program!
There are four monthly and two yearly VIP Levels in Yapoker's VIP program. The BPs you accumulate are multiplied into Player Points (PP) that you can turn into cash in the VIP store. Your multiplier is determined by your current VIP Level status. The higher your VIP Level is, the more PPs you get per BP. The table below shows the cashback rate you can receive by converting your PPs to cash. In the VIP store you can also choose among tournament tickets, electronics and merchandise.
| VIP Level | Total BPs Required | Monthly Rake Equivalent | Cashback (Up to %) |
| --- | --- | --- | --- |
| Bronze | 0 | $0 | 0% |
| Silver | 750 | $136 | 9% |
| Gold | 3000 | $545 | 13% |
| Platinum | 7500 | $1,364 | 17% |
| Diamond* | 100000 | $1,515 | 31% |
| Black Diamond* | 1000000 | $15,152 | 44% |
*Yearly VIP Levels
Click here for more info about the VIP program and the Terms & Conditions
Sunday Squeeze
WPN's new tournament schedule debuted back on April 3rd featuring bigger prize pools, tournaments with faster structures, more satellites, and brand-new events daily.
From December 4th, there have been some changes made to the Sunday Squeeze.
What is the same:
The Sunday Squeeze is still a multi-flight $50,000 guaranteed tournament. That means players from all over the world, no matter their time zone, can take part!
12 Day 1 flights (Monday - Saturday)
Begins every two hours starting at 12:05am ET and ends at 10:05pm ET

A very fast run time of just three hours
8 Day 1 flights (Sunday)
Begins at 12:05am ET and ends at 2:05pm ET.
Day 2 (Sunday)
What has changed:
The Sunday Squeeze is no longer a freezeout tournament. Players now have the opportunity to re-enter a flight once!
The buy-in price for all the flights has changed from $10.50 to $16.50, which is still a very affordable price. With this price increase will come even bigger prize pools for this tourney on a weekly basis!
Please note: if you still have $10.50 tickets buy-in tickets let over, these can be used on a special $30,000 GTD tourney that will run every Sunday in December. More details on this tourney to follow

Schedule (Multi-flight)
| | | |
| --- | --- | --- |
| 80 Day 1 Flights (2hr Late Reg) | | Day 2 (Est Duration: 5hrs) |
| Monday to Saturday | Sunday | Sunday |
| 0:05am ET | 0:05am ET | 6:05pm ET |
| 2:05am ET | 2:05am ET | |
| 4:05am ET | 4:05am ET | |
| 6:05am ET | 6:05am ET | |
| 8:05am ET | 8:05am ET | |
| 10:05am ET | 10:05am ET | |
| 12:05pm ET | 12:05pm ET | |
| 2:05pm ET | 2:05pm ET | |
| 4:05pm ET | | |
| 6:05pm ET | | |
| 8:05pm ET | | |
| 10:05pm ET | | |
The Daily Double Promotion
Ya Poker's brand-new Daily Double promotion, named after the ACR Pros Jeff Boski and Michael Loncar, is giving you the opportunity to win life-changing money!
Everyday, two sets of MTTs will run that start 30 minutes apart. Each tourney pays out 98.5% of the prize pool daily and sends 1.5% to a separate progressive jackpot.
If you reach the Final Table in either the Loncar or Boski Daily Double tourneys on the same day, you win 20% of the jackpot. If you win both Daily Double tourneys on the same day, you get 100% of the jackpot!
The minimum jackpot for The Loncar Daily Double is $20,000, and the minimum for The Boski Daily Double is $5,000.
Daily Multi-table Tournaments (MTTs) Schedule
Monday through Saturday
Loncar
$30,000 GTD ($88 buy-in) at 6:15pm ET

$30,000 GTD ($88 buy-in) at 6:45pm ET
Boski
$10,000 GTD ($11 buy-in) at 6:15pm ET

$10,000 GTD ($11 buy-in) at 6:45pm ET
Sunday
Loncar
$50,000 GTD ($88 buy-in) at 6:15pm ET

$50,000 GTD ($88 buy-in) at 6:45pm ET
Boski
$15,000 GTD ($11 buy-in) at 6:15pm ET

$15,000 GTD ($11 buy-in) at 6:45pm ET
Online Super Series XL: $50 Million GTD
The OSS XL runs from Sept. 3rd to Oct. 2nd and features a scale-tipping $50 Million in guaranteed prize pools. That makes it a whopping 25% bigger than the previous biggest series, the $40 Million OSS in May.
The OSS, which stands for Online Super Series, is YaPoker's flagship tournament series, and the XL version more than lives up to its name thanks to four events of at least $2 Million.
Yet the OSS XL is also big when it comes to variety, offering your players a mix of small, medium and large buy-in events. Plus, with buy-ins ranging from $0.10 to $2,650, everyone can afford to play.
The OSS XL has two $2,500,000 GTD Main Events and two $500,000 Main Events.
Both the $2,650 buy-in $2,500,000 GTD and $1,050 buy-in $2,500,000 GTD Main Events kick off with Day 1A on Sunday, September 24th and Day 1B on Sunday, October 1st.
The action continues with Day 2 for both events on Monday, October 2nd, wrapping up with the final table on Tuesday, October 3rd.
YaPoker are also hosting a $2,650 buy-in $500,000 GTD PLO on Sunday, September 24th and a $109 buy-in $500,000 GTD with Day 1 on Sunday, October 1st and Day 2 on Monday, October 2nd.
There's also another way to achieve a huge payout with the first-ever OSS XL leaderboard, which features $60,000 worth of cash prizes and tournament tickets.
The OSS XL has a great deal of flexibly too, thank to three multiflight tourneys with seven-figure guarantees, with Day 1 flights from Sunday, September 3rd to Monday, October 2nd (Day 2 is also on Monday, October 2nd):
$630 buy-in $2,000,000 GTD
$215 buy-in $2,000,000 GTD (Mystery Bounty tourney)
$66 buy-in $1,000,000 GTD (Mystery Bounty tourney)
High Stakes Adventure: Monte Carlo
The adventure continues and the stakes are as high as they've ever been!
After sending players to Cyprus, Vietnam and London to compete in ultra-high stakes tournaments, YaPoker aren't missing a beat. This time they're sending at least four players to Monte Carlo, where they'll play high stakes poker against the best players on the planet!
Each Prize Package includes $110,000 plus luxury travel
YaPoker are guaranteeing a total of 4 packages valued at $110,000 each through two satellites. That's $110,000 earmarked for buy-ins and entry fees for the high stakes series in Monte Carlo, Monaco.
Winners will also get treated like royalty, since they're paying for business class airfare and luxury hotel accommodations for 11 nights from October 24th – November 4th.
Main Online Satellites ($2,650 Buy-in):
Sunday, September 17th at 2:05pm ET | 2 Packages Guaranteed | $220,000 TOTAL VALUE
Sunday, September 24th at 2:05pm ET | 2 Packages Guaranteed | $220,000 TOTAL VALUE
Experience a royal flush of excitement
Monte Carlo is the epitome of luxury and glamor. Nestled within the French Riviera, the city-state is a destination for gamblers from across the globe, but that's just the beginning. If you win the prize package, you'll be able to take advantage of upscale shopping, award-winning culinary experiences, and Monte Carlo's renowned nightlife.
As a High Stakes Adventure package winner, you'll join the poker pros and Stormer stream team as part of YaPoker's entourage in Monte Carlo. Pros and streamers will win their packages through separate contests. The four guaranteed packages mentioned above are exclusively for YaPoker players.
When it comes to hitting the tables, you don't have to spend your $110K all in one place. With typical tournament buy-ins ranging from $15K to $100K (plus entry fees), you can play in numerous events or act like a baller and put it all on the line! Either way, this is going to be the experience of a lifetime.
Sell up to 50% of your action to our CEO
If you want to hedge your bets, they have you covered. The WPN CEO has agreed to buy up to 50% of the buy-ins/entry fees of every tournament you enter.
That means you can pocket up to $55,000 before you take off to Monte Carlo. It's entirely your call.
Win your $2,650 seat without breaking the bank
They're hosting $290 Super Satellites, so you can earn your $2,650 buy-in for much less. Here are the Super Satellite dates:
Saturday, September 16th at 2:30pm ET
Sunday, September 17th at 12:05pm ET
Sunday, September 24th at 12:05pm ET
Welcome Bonus - 100% up to $500 Deposit Bonus
At Ya poker you'll receive a 100% up to $500 First deposit bonus which really works as flat rakeback, since it is released in very small increments. Your 100% First Time Deposit Bonus will be paid out in increments of $1 for every 27.5 Award Points Earned. Minimum deposit to qualify: $25 - That's worth 20% cashback.
| | | | |
| --- | --- | --- | --- |
| Bonus Amount | Points Required | Days to clear | Cashback |
| $500 | 27.5 Aps per $1 | 60 | 20% |
Click here for the full Terms and Conditions
Ya Poker FAQs
Follow these simple steps to signup for Ya Poker rakeback and access our exclusive promotions:
Clear browser cookies. This is important to make sure your account is correctly tracked to RakeTheRake.
Click the "Sign up at Ya Poker" button on this page to visit the Ya Poker website.
Complete the Ya Poker account registration process.
Return to RakeTheRake and send us your Ya Poker details so we can check if tracking was successful.
Yes, Ya Poker do retag poker accounts if your account meets the requirements. To take advantage of our exclusive Ya Poker deal and promotions, follow the steps below:
Apply for retagging here by filling out the required Ya Poker details.
Wait for us to contact Ya Poker to see if retagging is possible. Once we hear back we'll let you know.