Poker news | Apr 21, 2022
Pokerstars SCOOP 2022 Will See it's First Ever Women's Event
By RTR Jamie
This year's PokerStars SCOOP Series will feature a women's event for the very first time.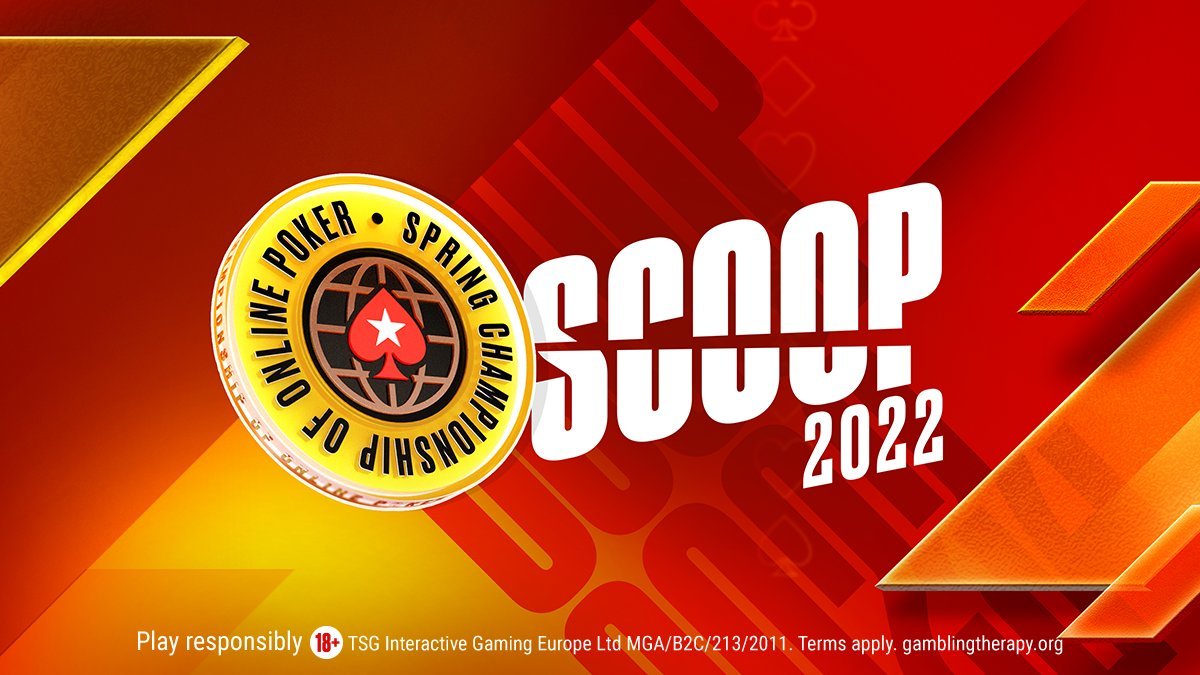 This is great news after a not so positive international Women's Month in the poker world, GGpoker announced that they would be continuing to work with misogynist poker 'pro' Dan Bilzerian and decided to close Vanessa Kade's affiliate account out of the so called blue around the same time.
If you're not familiar with the story, you can find out about all the sexist comments Dan Bilzerian made and got away with here.
On a lighter note, the PokerStars Spring Championship of Online Poker (SCOOP) will begin on May 8th running through to June 1st for its 14th year!
Version 14 of the SCOOP series will be the biggest to date, as one of the most popular poker series there's no surprise they are expanding events, there will be a huge total of 318 tournaments during the series.
There will be 107 events and each comes with Low, Medium and High price points, with buy-ins as low as $2.20, giving everyone the opportunity to build their bankroll.
The PokerStars managing director Severin Rasset has purposely introduced a wide range of buy-ins to meet the needs of the whole poker community.
"As always, we've ensured that the whole community, whether they are new to the game or experienced poker players, can fully immerse themselves into the Series, with a variety of buy-ins to suit all levels. The countdown is on, and we hope our players can use the 14th year of the SCOOP series to have fun and of course play responsibly."
The first ever women's SCOOP events will take place on May 29th during the tournament, there are three events to get involved in.
$5.50 Women's SCOOP - Guaranteed prize of $3,000

$22 Women's SCOOP - Guaranteed prize of $10,000

$109 Women's SCOOP - Guaranteed prize of $25,000
The three events total to $40,000 in prize winnings, an amazing opportunity for women wanting to make their way to the top of a male dominated industry.
On the same day there are three SCOOP Main Events:
$109 Main Event-L - Guaranteed prize of $2,500,000

$4,000,000 guaranteed $1,050 Main Event-M - Guaranteed prize of $4,000,000

$10,300 Main Event-H - Guaranteed prize of $5,000,000
This is not the only exciting thing about this year's SCOOP, PokerStars are running a promotion called Pick-A-Box where there will be $250,000 in tickets to be won each week.
During the lead up to the event, PokerStars players have the opportunity to win a ticket to the SCOOP tournament. Each day, players need to head to their challenge window and pick one of six boxes.
Overall, the event will see a guaranteed total of $75,000,000 in prize money and players can win a portion of this through the following events:
| | | | |
| --- | --- | --- | --- |
| *Date | Time | Event | Days* |
| Sun, 8 May | 08:05 | SCOOP 02-L: $5.50 NLHE [SCOOP Kickoff], $50K Gtd | 2 |
| Sun, 8 May | 08:05 | SCOOP 02-M: $55 NLHE [SCOOP Kickoff], $200K Gtd | 2 |
| Sun, 8 May | 08:05 | SCOOP 02-H: $530 NLHE [SCOOP Kickoff], $300K Gtd | 2 |
| Sun, 8 May | 10:05 | SCOOP 03-L: $11 NLHE [Sunday Warm-Up], $100K Gtd | 2 |
| Sun, 8 May | 10:05 | SCOOP 03-M: $109 NLHE [Sunday Warm-Up], $350K Gtd | 2 |
| Sun, 8 May | 10:05 | SCOOP 03-H: $1,050 NLHE [Sunday Warm-Up], $400K Gtd | 2 |
| Sun, 8 May | 12:30 | SCOOP 04-L: $22 NLHE [Progressive KO, Mini Sunday Million], $275K Gtd | 2 |
| Sun, 8 May | 12:30 | SCOOP 04-M: $215 NLHE [Progressive KO, Sunday Million], $1M Gtd | 2 |
| Sun, 8 May | 12:30 | SCOOP 04-H: $2,100 NLHE [Progressive KO, Sunday HR], $500K Gtd | 2 |
| Sun, 8 May | 13:30 | SCOOP 05-L: $11 PLO, $60K Gtd | 2 |
| Sun, 8 May | 13:30 | SCOOP 05-M: $109 PLO, $150K Gtd | 2 |
| Sun, 8 May | 13:30 | SCOOP 05-H: $1,050 PLO, $250K Gtd | 2 |
| Sun, 8 May | 15:05 | SCOOP 06-L: $3.30 NLHE, $30K Gtd | 1 |
| Sun, 8 May | 15:05 | SCOOP 06-M: $33 NLHE, $125K Gtd | 1 |
| Sun, 8 May | 15:05 | SCOOP 06-H: $320 NLHE, $250K Gtd | 1 |
| Sun, 8 May | 16:30 | SCOOP 07-L: $33 NLHE [7-Max, Turbo, Progressive KO, Sunday Cooldown], $150K Gtd | 1 |
| Sun, 8 May | 16:30 | SCOOP 07-M: $215 NLHE [7-Max, Turbo, Progressive KO, Sunday Cooldown], $275K Gtd | 1 |
| Sun, 8 May | 16:30 | SCOOP 07-H: $1,050 NLHE [7-Max, Turbo, Progressive KO, Sunday Cooldown], $300K Gtd | 1 |
| Mon, 9 May | 12:30 | SCOOP 08-L: $11 NLHE, $125K Gtd | 2 |
| Mon, 9 May | 12:30 | SCOOP 08-M: $109 NLHE, $400K Gtd | 2 |
| Mon, 9 May | 12:30 | SCOOP 08-H: $1,050 NLHE, $500K Gtd | 2 |
| Mon, 9 May | 13:30 | SCOOP 09-L: $22 HORSE, $30K Gtd | 2 |
| Mon, 9 May | 13:30 | SCOOP 09-M: $215 HORSE, $50K Gtd | 2 |
| Mon, 9 May | 13:30 | SCOOP 09-H: $2,100 HORSE, $75K Gtd | 2 |
| Mon, 9 May | 15:05 | SCOOP 10-L: $5.50 NLHE [Progressive KO], $80K Gtd | 2 |
| Mon, 9 May | 15:05 | SCOOP 10-M: $55 NLHE [Progressive KO], $250K Gtd | 2 |
| Mon, 9 May | 15:05 | SCOOP 10-H: $530 NLHE [Progressive KO], $275K Gtd | 2 |
| Tue, 10 May | 10:05 | SCOOP 11-L: $2.20 NLHE, $12.5K Gtd | 1 |
| Tue, 10 May | 10:05 | SCOOP 11-M: $22 NLHE, $75K Gtd | 1 |
| Tue, 10 May | 10:05 | SCOOP 11-H: $215 NLHE, $100K Gtd | 1 |
| Tue, 10 May | 11:30 | SCOOP 12-L: $11 NL 5-Card Draw [Progressive KO], $15K Gtd | 1 |
| Tue, 10 May | 11:30 | SCOOP 12-M: $109 NL 5-Card Draw [Progressive KO], $17.5K Gtd | 1 |
| Tue, 10 May | 11:30 | SCOOP 12-H: $1,050 NL 5-Card Draw [Progressive KO], $35K Gtd | 1 |
| Tue, 10 May | 12:30 | SCOOP 13-L: $109 NLHE [Super Tuesday], $300K Gtd | 2 |
| Tue, 10 May | 12:30 | SCOOP 13-M: $1,050 NLHE [Super Tuesday], $500K Gtd | 2 |
| Tue, 10 May | 12:30 | SCOOP 13-H: $10,300 NLHE [Super Tuesday High Roller], $700K Gtd | 2 |
| Tue, 10 May | 13:30 | SCOOP 14-L: $11 PLO, $35K Gtd | 2 |
| Tue, 10 May | 13:30 | SCOOP 14-M: $109 PLO, $85K Gtd | 2 |
| Tue, 10 May | 13:30 | SCOOP 14-H: $1,050 PLO, $225K Gtd | 2 |
| Tue, 10 May | 15:05 | SCOOP 15-L: $22 NLHE [Progressive KO], $100K Gtd | 1 |
| Tue, 10 May | 15:05 | SCOOP 15-M: $215 NLHE [Progressive KO], $200K Gtd | 1 |
| Tue, 10 May | 15:05 | SCOOP 15-H: $2,100 NLHE [Progressive KO], $225K Gtd | 1 |
| Tue, 10 May | 16:30 | SCOOP 16-L: $11 6+ Hold'em [6-Max, Turbo], $25K Gtd | 1 |
| Tue, 10 May | 16:30 | SCOOP 16-M: $109 6+ Hold'em [6-Max, Turbo], $35K Gtd | 1 |
| Tue, 10 May | 16:30 | SCOOP 16-H: $1,050 6+ Hold'em [6-Max, Turbo], $50K Gtd | 1 |
| Wed, 11 May | 11:30 | SCOOP 17-L: $11 NLHE [Deep Stacks], $85K Gtd | 2 |
| Wed, 11 May | 11:30 | SCOOP 17-M: $109 NLHE [Deep Stacks], $200K Gtd | 2 |
| Wed, 11 May | 11:30 | SCOOP 17-H: $1,050 NLHE [Deep Stacks], $150K Gtd | 2 |
| Wed, 11 May | 12:30 | SCOOP 18-L: $55 NLHE [7-Max, Midweek Freeze], $175K Gtd | 2 |
| Wed, 11 May | 12:30 | SCOOP 18-M: $530 NLHE [7-Max, Midweek Freeze], $250K Gtd | 2 |
| Wed, 11 May | 12:30 | SCOOP 18-H: $5,200 NLHE [7-Max, High Roller], $400K Gtd | 2 |
| Wed, 11 May | 13:30 | SCOOP 19-L: $11 NLO8 [Progressive KO], $35K Gtd | 2 |
| Wed, 11 May | 13:30 | SCOOP 19-M: $109 NLO8 [Progressive KO], $80K Gtd | 2 |
| Wed, 11 May | 13:30 | SCOOP 19-H: $1,050 NLO8 [Progressive KO], $125K Gtd | 2 |
| Wed, 11 May | 15:05 | SCOOP 20-L: $11 NLHE [Progressive KO], $80K Gtd | 2 |
| Wed, 11 May | 15:05 | SCOOP 20-M: $109 NLHE [Progressive KO], $250K Gtd | 2 |
| Wed, 11 May | 15:05 | SCOOP 20-H: $1,050 NLHE [Progressive KO], $275K Gtd | 2 |
| Thu, 12 May | 05:05 | SCOOP 21-L: $5.50 NLHE, $15K Gtd | 1 |
| Thu, 12 May | 05:05 | SCOOP 21-M: $55 NLHE, $35K Gtd | 1 |
| Thu, 12 May | 05:05 | SCOOP 21-H: $530 NLHE, $50K Gtd | 1 |
| Thu, 12 May | 11:30 | SCOOP 22-L: $11 FLO8 [8-Max], $15K Gtd | 1 |
| Thu, 12 May | 11:30 | SCOOP 22-M: $109 FLO8 [8-Max], $35K Gtd | 1 |
| Thu, 12 May | 11:30 | SCOOP 22-H: $1,050 FLO8 [8-Max], $50K Gtd | 1 |
| Thu, 12 May | 12:30 | SCOOP 23-L: $33 NLHE [Progressive KO, Thursday Thrill], $200K Gtd | 2 |
| Thu, 12 May | 12:30 | SCOOP 23-M: $215 NLHE [Progressive KO, Thursday Thrill], $500K Gtd | 2 |
| Thu, 12 May | 12:30 | SCOOP 23-H: $1,050 NLHE [Progressive KO, Thursday Thrill], $700K Gtd | 2 |
| Thu, 12 May | 13:30 | SCOOP 24-L: $11 Stud Hi/Lo, $12.5K Gtd | 1 |
| Thu, 12 May | 13:30 | SCOOP 24-M: $109 Stud Hi/Lo, $25K Gtd | 1 |
| Thu, 12 May | 13:30 | SCOOP 24-H: $1,050 Stud Hi/Lo, $50K Gtd | 1 |
| Thu, 12 May | 15:05 | SCOOP 25-L: $3.30+R NLHE [Rebuy], $50K Gtd | 1 |
| Thu, 12 May | 15:05 | SCOOP 25-M: $33+R NLHE [Rebuy], $150K Gtd | 1 |
| Thu, 12 May | 15:05 | SCOOP 25-H: $320+R NLHE [Rebuy], $200K Gtd | 1 |
| Thu, 12 May | 16:30 | SCOOP 26-L: $11 NLHE [6-Max, Turbo, Progressive KO], $85K Gtd | 1 |
| Thu, 12 May | 16:30 | SCOOP 26-M: $109 NLHE [6-Max, Turbo, Progressive KO], $225K Gtd | 1 |
| Thu, 12 May | 16:30 | SCOOP 26-H: $1,050 NLHE [6-Max, Turbo, Progressive KO], $250K Gtd | 1 |
| Sat, 14 May | 10:05 | SCOOP 27-L: $3.30 NLHE, $50K Gtd | 1 |
| Sat, 14 May | 10:05 | SCOOP 27-M: $33 NLHE, $175K Gtd | 1 |
| Sat, 14 May | 10:05 | SCOOP 27-H: $320 NLHE, $200K Gtd | 1 |
| Sat, 14 May | 11:30 | SCOOP 28-L: $11 8-Game, $20K Gtd | 1 |
| Sat, 14 May | 11:30 | SCOOP 28-M: $109 8-Game, $50K Gtd | 1 |
| Sat, 14 May | 11:30 | SCOOP 28-H: $1,050 8-Game, $65K Gtd | 1 |
| Sat, 14 May | 12:30 | SCOOP 29-L: $11 NLHE [Progressive KO, Saturday KO], $200K Gtd | 2 |
| Sat, 14 May | 12:30 | SCOOP 29-M: $109 NLHE [Progressive KO, Saturday KO], $600K Gtd | 2 |
| Sat, 14 May | 12:30 | SCOOP 29-H: $1,050 NLHE [Progressive KO, Saturday KO], $750K Gtd | 2 |
| Sat, 14 May | 13:30 | SCOOP 30-L: $5.50 5-Card PLO, $20K Gtd | 1 |
| Sat, 14 May | 13:30 | SCOOP 30-M: $55 5-Card PLO, $75K Gtd | 1 |
| Sat, 14 May | 13:30 | SCOOP 30-H: $530 5-Card PLO, $150K Gtd | 1 |
| Sat, 14 May | 15:05 | SCOOP 31-L: $22 NLHE, $100K Gtd | 1 |
| Sat, 14 May | 15:05 | SCOOP 31-M: $215 NLHE, $175K Gtd | 1 |
| Sat, 14 May | 15:05 | SCOOP 31-H: $2,100 NLHE, $250K Gtd | 1 |
| Sat, 14 May | 16:30 | SCOOP 32-L: $11 NLHE [7-Max, Hyper-Turbo, Progressive KO], $60K Gtd | 1 |
| Sat, 14 May | 16:30 | SCOOP 32-M: $109 NLHE [7-Max, Hyper-Turbo, Progressive KO], $150K Gtd | 1 |
| Sat, 14 May | 16:30 | SCOOP 32-H: $1,050 NLHE [7-Max, Hyper-Turbo, Progressive KO], $175K Gtd | 1 |
| Sun, 15 May | 08:05 | SCOOP 33-L: $11 NLHE [Sunday Kickoff], $85K Gtd | 2 |
| Sun, 15 May | 08:05 | SCOOP 33-M: $109 NLHE [Sunday Kickoff], $250K Gtd | 2 |
| Sun, 15 May | 08:05 | SCOOP 33-H: $1,050 NLHE [Sunday Kickoff], $275K Gtd | 2 |
| Sun, 15 May | 10:05 | SCOOP 34-L: $22 NLHE [Progressive KO, Sunday Warm-Up], $200K Gtd | 2 |
| Sun, 15 May | 10:05 | SCOOP 34-M: $215 NLHE [Progressive KO, Sunday Warm-Up], $500K Gtd | 2 |
| Sun, 15 May | 10:05 | SCOOP 34-H: $2,100 NLHE [Progressive KO, Sunday Warm-Up], $500K Gtd | 2 |
| Sun, 15 May | 12:30 | SCOOP 35-L: $55 NLHE [Mini Sunday Million], $650K Gtd | 3 |
| Sun, 15 May | 12:30 | SCOOP 35-M: $530 NLHE [Sunday Million], $1M Gtd | 3 |
| Sun, 15 May | 12:30 | SCOOP 35-H: $5,200 NLHE [Titans], $800K Gtd | 2 |
| Sun, 15 May | 13:30 | SCOOP 36-L: $11 PLO8, $30K Gtd | 2 |
| Sun, 15 May | 13:30 | SCOOP 36-M: $109 PLO8, $70K Gtd | 2 |
| Sun, 15 May | 13:30 | SCOOP 36-H: $1,050 PLO8, $125K Gtd | 2 |
| Sun, 15 May | 15:05 | SCOOP 37-L: $11 NLHE [6-Max], $100K Gtd | 2 |
| Sun, 15 May | 15:05 | SCOOP 37-M: $109 NLHE [6-Max], $350K Gtd | 2 |
| Sun, 15 May | 15:05 | SCOOP 37-H: $1,050 NLHE [6-Max], $500K Gtd | 2 |
| Sun, 15 May | 16:30 | SCOOP 38-L: $5.50 NLHE [Turbo, Progressive KO, Sunday Cooldown], $40K Gtd | 1 |
| Sun, 15 May | 16:30 | SCOOP 38-M: $55 NLHE [Turbo, Progressive KO, Sunday Cooldown], $250K Gtd | 1 |
| Sun, 15 May | 16:30 | SCOOP 38-H: $530 NLHE [Turbo, Progressive KO, Sunday Cooldown], $375K Gtd | 1 |
| Mon, 16 May | 12:30 | SCOOP 39-L: $22 NLHE [6-Max, Progressive KO], $275K Gtd | 2 |
| Mon, 16 May | 12:30 | SCOOP 39-M: $215 NLHE [6-Max, Progressive KO], $500K Gtd | 2 |
| Mon, 16 May | 12:30 | SCOOP 39-H: $2,100 NLHE [6-Max, Progressive KO], $500K Gtd | 2 |
| Mon, 16 May | 13:30 | SCOOP 40-L: $5.50 5-Card NLO8 [8-Max], $10K Gtd | 2 |
| Mon, 16 May | 13:30 | SCOOP 40-M: $55 5-Card NLO8 [8-Max], $35K Gtd | 2 |
| Mon, 16 May | 13:30 | SCOOP 40-H: $530 5-Card NLO8 [8-Max], $75K Gtd | 2 |
| Mon, 16 May | 15:05 | SCOOP 41-L: $11 NLHE, $50K Gtd | 2 |
| Mon, 16 May | 15:05 | SCOOP 41-M: $109 NLHE, $150K Gtd | 2 |
| Mon, 16 May | 15:05 | SCOOP 41-H: $1,050 NLHE, $200K Gtd | 2 |
| Tue, 17 May | 10:05 | SCOOP 42-L: $11 NLHE [Deep Stacks], $65K Gtd | 1 |
| Tue, 17 May | 10:05 | SCOOP 42-M: $109 NLHE [Deep Stacks], $150K Gtd | 1 |
| Tue, 17 May | 10:05 | SCOOP 42-H: $1,050 NLHE [Deep Stacks], $150K Gtd | 1 |
| Tue, 17 May | 11:30 | SCOOP 43-L: $22 PLO [Progressive KO], $70K Gtd | 2 |
| Tue, 17 May | 11:30 | SCOOP 43-M: $215 PLO [Progressive KO], $125K Gtd | 2 |
| Tue, 17 May | 11:30 | SCOOP 43-H: $2,100 PLO [Progressive KO], $200K Gtd | 2 |
| Tue, 17 May | 12:30 | SCOOP 44-L: $215 NLHE, $400K Gtd | 2 |
| Tue, 17 May | 12:30 | SCOOP 44-M: $2,100 NLHE, $500K Gtd | 2 |
| Tue, 17 May | 12:30 | SCOOP 44-H: $25,000 NLHE [Super High Roller], $1M Gtd | 2 |
| Tue, 17 May | 13:30 | SCOOP 45-L: $22 FL 2-7 Triple Draw, $15K Gtd | 1 |
| Tue, 17 May | 13:30 | SCOOP 45-M: $215 FL 2-7 Triple Draw, $30K Gtd | 1 |
| Tue, 17 May | 13:30 | SCOOP 45-H: $2,100 FL 2-7 Triple Draw, $65K Gtd | 1 |
| Tue, 17 May | 15:05 | SCOOP 46-L: $11 NLHE [6-Max], $40K Gtd | 2 |
| Tue, 17 May | 15:05 | SCOOP 46-M: $109 NLHE [6-Max], $125K Gtd | 2 |
| Tue, 17 May | 15:05 | SCOOP 46-H: $1,050 NLHE [6-Max], $275K Gtd | 2 |
| Tue, 17 May | 16:30 | SCOOP 47-L: $5.50 6+ Hold'em [8-Max, Turbo, Progressive KO], $15K Gtd | 1 |
| Tue, 17 May | 16:30 | SCOOP 47-M: $55 6+ Hold'em [8-Max, Turbo, Progressive KO], $25K Gtd | 1 |
| Tue, 17 May | 16:30 | SCOOP 47-H: $530 6+ Hold'em [8-Max, Turbo, Progressive KO], $50K Gtd | 1 |
| Wed, 18 May | 11:30 | SCOOP 48-L: $3.30+R PLO, $20K Gtd | 1 |
| Wed, 18 May | 11:30 | SCOOP 48-M: $33+R PLO, $60K Gtd | 1 |
| Wed, 18 May | 11:30 | SCOOP 48-H: $320+R PLO, $125K Gtd | 1 |
| Wed, 18 May | 12:30 | SCOOP 49-L: $55 NLHE [Midweek Freeze], $200K Gtd | 2 |
| Wed, 18 May | 12:30 | SCOOP 49-M: $530 NLHE [Midweek Freeze], $275K Gtd | 2 |
| Wed, 18 May | 12:30 | SCOOP 49-H: $5,200 NLHE [Midweek Freeze], $400K Gtd | 2 |
| Wed, 18 May | 13:30 | SCOOP 50-L: $11 Razz, $12.5K Gtd | 1 |
| Wed, 18 May | 13:30 | SCOOP 50-M: $109 Razz, $30K Gtd | 1 |
| Wed, 18 May | 13:30 | SCOOP 50-H: $1,050 Razz, $50K Gtd | 1 |
| Wed, 18 May | 15:05 | SCOOP 51-L: $11 NLHE [6-Max, Progressive KO], $100K Gtd | 2 |
| Wed, 18 May | 15:05 | SCOOP 51-M: $109 NLHE [6-Max, Progressive KO], $350K Gtd | 2 |
| Wed, 18 May | 15:05 | SCOOP 51-H: $1,050 NLHE [6-Max, Progressive KO], $300K Gtd | 2 |
| Thu, 19 May | 10:05 | SCOOP 52-L: $5.50 NLHE, $30K Gtd | 1 |
| Thu, 19 May | 10:05 | SCOOP 52-M: $55 NLHE, $125K Gtd | 1 |
| Thu, 19 May | 10:05 | SCOOP 52-H: $530 NLHE, $200K Gtd | 1 |
| Thu, 19 May | 11:30 | SCOOP 53-L: $11 FLHE [6-Max], $12.5K Gtd | 1 |
| Thu, 19 May | 11:30 | SCOOP 53-M: $109 FLHE [6-Max], $20K Gtd | 1 |
| Thu, 19 May | 11:30 | SCOOP 53-H: $1,050 FLHE [6-Max], $40K Gtd | 1 |
| Thu, 19 May | 12:30 | SCOOP 54-L: $109 NLHE [Progressive KO, Thursday Thrill], $400K Gtd | 2 |
| Thu, 19 May | 12:30 | SCOOP 54-M: $1,050 NLHE [Progressive KO, Thursday Thrill], $700K Gtd | 2 |
| Thu, 19 May | 12:30 | SCOOP 54-H: $10,300 NLHE [Progressive KO, Thursday Thrill High Roller], $750K Gtd | 2 |
| Thu, 19 May | 13:30 | SCOOP 55-L: $5.50 PLO8, $12.5K Gtd | 2 |
| Thu, 19 May | 13:30 | SCOOP 55-M: $55 PLO8, $40K Gtd | 2 |
| Thu, 19 May | 13:30 | SCOOP 55-H: $530 PLO8, $100K Gtd | 2 |
| Thu, 19 May | 15:05 | SCOOP 56-L: $55 NLHE [6-Max, Progressive KO], $125K Gtd | 1 |
| Thu, 19 May | 15:05 | SCOOP 56-M: $320 NLHE [6-Max, Progressive KO], $175K Gtd | 1 |
| Thu, 19 May | 15:05 | SCOOP 56-H: $1,050 NLHE [6-Max, Progressive KO], $175K Gtd | 1 |
| Sat, 21 May | 05:05 | SCOOP 57-L: $3.30 NLHE [Weekend Starter], $30K Gtd | 1 |
| Sat, 21 May | 05:05 | SCOOP 57-M: $33 NLHE [Weekend Starter], $125K Gtd | 1 |
| Sat, 21 May | 05:05 | SCOOP 57-H: $320 NLHE [Weekend Starter], $150K Gtd | 1 |
| Sat, 21 May | 10:05 | SCOOP 58-L: $11 NLHE [Deep Stacks], $75K Gtd | 1 |
| Sat, 21 May | 10:05 | SCOOP 58-M: $109 NLHE [Deep Stacks], $200K Gtd | 1 |
| Sat, 21 May | 10:05 | SCOOP 58-H: $1,050 NLHE [Deep Stacks], $200K Gtd | 1 |
| Sat, 21 May | 11:30 | SCOOP 59-L: $55 PLO, $80K Gtd | 2 |
| Sat, 21 May | 11:30 | SCOOP 59-M: $530 PLO, $150K Gtd | 2 |
| Sat, 21 May | 11:30 | SCOOP 59-H: $5,200 PLO [High Roller], $400K Gtd | 2 |
| Sat, 21 May | 12:30 | SCOOP 60-L: $5.50 NLHE [Progressive KO], $80K Gtd | 2 |
| Sat, 21 May | 12:30 | SCOOP 60-M: $55 NLHE [Progressive KO], $400K Gtd | 2 |
| Sat, 21 May | 12:30 | SCOOP 60-H: $530 NLHE [Progressive KO], $500K Gtd | 2 |
| Sat, 21 May | 13:30 | SCOOP 61-L: $2.20 8-Game [Progressive KO], $5K Gtd | 2 |
| Sat, 21 May | 13:30 | SCOOP 61-M: $22 8-Game [Progressive KO], $25K Gtd | 2 |
| Sat, 21 May | 13:30 | SCOOP 61-H: $215 8-Game [Progressive KO], $50K Gtd | 2 |
| Sat, 21 May | 15:05 | SCOOP 62-L: $11 NLHE [4-Max, Progressive KO], $75K Gtd | 1 |
| Sat, 21 May | 15:05 | SCOOP 62-M: $109 NLHE [4-Max, Progressive KO], $150K Gtd | 1 |
| Sat, 21 May | 15:05 | SCOOP 62-H: $1,050 NLHE [4-Max, Progressive KO], $125K Gtd | 1 |
| Sat, 21 May | 16:30 | SCOOP 63-L: $55 NLHE [Turbo], $100K Gtd | 1 |
| Sat, 21 May | 16:30 | SCOOP 63-M: $320 NLHE [Turbo], $175K Gtd | 1 |
| Sat, 21 May | 16:30 | SCOOP 63-H: $1,050 NLHE [Turbo], $175K Gtd | 1 |
| Sun, 22 May | 08:05 | SCOOP 64-L: $5.50 NLHE [Progressive KO, Sunday Kickoff], $40K Gtd | 2 |
| Sun, 22 May | 08:05 | SCOOP 64-M: $55 NLHE [Progressive KO, Sunday Kickoff], $200K Gtd | 2 |
| Sun, 22 May | 08:05 | SCOOP 64-H: $530 NLHE [Progressive KO, Sunday Kickoff], $300K Gtd | 2 |
| Sun, 22 May | 10:05 | SCOOP 65-L: $11 NLHE [Sunday Warm-Up], $85K Gtd | 2 |
| Sun, 22 May | 10:05 | SCOOP 65-M: $109 NLHE [Sunday Warm-Up], $300K Gtd | 2 |
| Sun, 22 May | 10:05 | SCOOP 65-H: $1,050 NLHE [Sunday Warm-Up], $400K Gtd | 2 |
| Sun, 22 May | 12:30 | SCOOP 66-L: $55 NLHE [Progressive KO, Sunday Million], $1M Gtd | 3 |
| Sun, 22 May | 12:30 | SCOOP 66-M: $530 NLHE [Progressive KO, Sunday Million], $1M Gtd | 3 |
| Sun, 22 May | 12:30 | SCOOP 66-H: $5,200 NLHE [Progressive KO, Titans], $800K Gtd | 2 |
| Sun, 22 May | 13:30 | SCOOP 67-L: $22 NLO8 [Progressive KO], $40K Gtd | 2 |
| Sun, 22 May | 13:30 | SCOOP 67-M: $215 NLO8 [Progressive KO], $100K Gtd | 2 |
| Sun, 22 May | 13:30 | SCOOP 67-H: $2,100 NLO8 [Progressive KO], $175K Gtd | 2 |
| Sun, 22 May | 15:05 | SCOOP 68-L: $11 NLHE, $100K Gtd | 2 |
| Sun, 22 May | 15:05 | SCOOP 68-M: $109 NLHE, $350K Gtd | 2 |
| Sun, 22 May | 15:05 | SCOOP 68-H: $1,050 NLHE, $500K Gtd | 2 |
| Sun, 22 May | 16:30 | SCOOP 69-L: $5.50 NLHE [7-Max, Turbo, Progressive KO, Sunday Cooldown], $35K Gtd | 1 |
| Sun, 22 May | 16:30 | SCOOP 69-M: $55 NLHE [7-Max, Turbo, Progressive KO, Sunday Cooldown], $225K Gtd | 1 |
| Sun, 22 May | 16:30 | SCOOP 69-H: $530 NLHE [7-Max, Turbo, Progressive KO, Sunday Cooldown], $350K Gtd | 1 |
| Mon, 23 May | 12:30 | SCOOP 70-L: $55 NLHE, $275K Gtd | 2 |
| Mon, 23 May | 12:30 | SCOOP 70-M: $530 NLHE, $400K Gtd | 2 |
| Mon, 23 May | 12:30 | SCOOP 70-H: $5,200 NLHE [High Roller], $500K Gtd | 2 |
| Mon, 23 May | 13:30 | SCOOP 71-L: $11 Stud, $10K Gtd | 1 |
| Mon, 23 May | 13:30 | SCOOP 71-M: $109 Stud, $20K Gtd | 1 |
| Mon, 23 May | 13:30 | SCOOP 71-H: $1,050 Stud, $40K Gtd | 1 |
| Mon, 23 May | 15:05 | SCOOP 72-L: $5.50 NLHE [5-Max, Progressive KO], $40K Gtd | 1 |
| Mon, 23 May | 15:05 | SCOOP 72-M: $55 NLHE [5-Max, Progressive KO], $175K Gtd | 1 |
| Mon, 23 May | 15:05 | SCOOP 72-H: $530 NLHE [5-Max, Progressive KO], $225K Gtd | 1 |
| Tue, 24 May | 05:05 | SCOOP 73-L: $2.20 NLHE, $20K Gtd | 1 |
| Tue, 24 May | 05:05 | SCOOP 73-M: $22 NLHE, $85K Gtd | 1 |
| Tue, 24 May | 05:05 | SCOOP 73-H: $215 NLHE, $100K Gtd | 1 |
| Tue, 24 May | 11:30 | SCOOP 74-L: $5.50 NL 2-7 Single Draw [Progressive KO], $10K Gtd | 1 |
| Tue, 24 May | 11:30 | SCOOP 74-M: $55 NL 2-7 Single Draw [Progressive KO], $20K Gtd | 1 |
| Tue, 24 May | 11:30 | SCOOP 74-H: $530 NL 2-7 Single Draw [Progressive KO], $40K Gtd | 1 |
| Tue, 24 May | 12:30 | SCOOP 75-L: $109 NLHE [Super Tuesday], $400K Gtd | 2 |
| Tue, 24 May | 12:30 | SCOOP 75-M: $1,050 NLHE [Super Tuesday], $800K Gtd | 2 |
| Tue, 24 May | 12:30 | SCOOP 75-H: $10,300 NLHE [Super Tuesday High Roller], $800K Gtd | 2 |
| Tue, 24 May | 13:30 | SCOOP 76-L: $22 PLO8, $35K Gtd | 2 |
| Tue, 24 May | 13:30 | SCOOP 76-M: $215 PLO8, $85K Gtd | 2 |
| Tue, 24 May | 13:30 | SCOOP 76-H: $2,100 PLO8, $175K Gtd | 2 |
| Tue, 24 May | 15:05 | SCOOP 77-L: $22 NLHE [7-Max], $85K Gtd | 2 |
| Tue, 24 May | 15:05 | SCOOP 77-M: $215 NLHE [7-Max], $200K Gtd | 2 |
| Tue, 24 May | 15:05 | SCOOP 77-H: $2,100 NLHE [7-Max], $175K Gtd | 2 |
| Tue, 24 May | 16:30 | SCOOP 78-L: $5.50 NLHE [6-Max, Turbo, Progressive KO], $40K Gtd | 1 |
| Tue, 24 May | 16:30 | SCOOP 78-M: $55 NLHE [6-Max, Turbo, Progressive KO], $200K Gtd | 1 |
| Tue, 24 May | 16:30 | SCOOP 78-H: $530 NLHE [6-Max, Turbo, Progressive KO], $300K Gtd | 1 |
| Wed, 25 May | 11:30 | SCOOP 79-L: $11 HORSE, $15K Gtd | 1 |
| Wed, 25 May | 11:30 | SCOOP 79-M: $109 HORSE, $40K Gtd | 1 |
| Wed, 25 May | 11:30 | SCOOP 79-H: $1,050 HORSE, $70K Gtd | 1 |
| Wed, 25 May | 12:30 | SCOOP 80-L: $5.50 NLHE, $60K Gtd | 2 |
| Wed, 25 May | 12:30 | SCOOP 80-M: $55 NLHE, $300K Gtd | 2 |
| Wed, 25 May | 12:30 | SCOOP 80-H: $530 NLHE, $400K Gtd | 2 |
| Wed, 25 May | 13:30 | SCOOP 81-L: $11 FL Badugi [6-Max], $7.5K Gtd | 1 |
| Wed, 25 May | 13:30 | SCOOP 81-M: $109 FL Badugi [6-Max], $17.5K Gtd | 1 |
| Wed, 25 May | 13:30 | SCOOP 81-H: $1,050 FL Badugi [6-Max], $35K Gtd | 1 |
| Wed, 25 May | 15:05 | SCOOP 82-L: $11 NLHE [Progressive KO], $70K Gtd | 2 |
| Wed, 25 May | 15:05 | SCOOP 82-M: $109 NLHE [Progressive KO], $200K Gtd | 2 |
| Wed, 25 May | 15:05 | SCOOP 82-H: $1,050 NLHE [Progressive KO], $250K Gtd | 2 |
| Thu, 26 May | 11:30 | SCOOP 83-L: $11 5-Card PLO8, $20K Gtd | 1 |
| Thu, 26 May | 11:30 | SCOOP 83-M: $109 5-Card PLO8, $40K Gtd | 1 |
| Thu, 26 May | 11:30 | SCOOP 83-H: $1,050 5-Card PLO8, $85K Gtd | 1 |
| Thu, 26 May | 12:30 | SCOOP 84-L: $55 NLHE [Progressive KO, Thursday Thrill], $400K Gtd | 2 |
| Thu, 26 May | 12:30 | SCOOP 84-M: $530 NLHE [Progressive KO, Thursday Thrill], $750K Gtd | 2 |
| Thu, 26 May | 12:30 | SCOOP 84-H: $5,200 NLHE [Progressive KO, Thursday Thrill High Roller], $650K Gtd | 2 |
| Thu, 26 May | 13:30 | SCOOP 85-L: $22 8-Game, $25K Gtd | 2 |
| Thu, 26 May | 13:30 | SCOOP 85-M: $215 8-Game, $50K Gtd | 2 |
| Thu, 26 May | 13:30 | SCOOP 85-H: $2,100 8-Game, $100K Gtd | 2 |
| Thu, 26 May | 15:05 | SCOOP 86-L: $33 NLHE [6-Max], $80K Gtd | 1 |
| Thu, 26 May | 15:05 | SCOOP 86-M: $215 NLHE [6-Max], $175K Gtd | 1 |
| Thu, 26 May | 15:05 | SCOOP 86-H: $1,050 NLHE [6-Max], $200K Gtd | 1 |
| Thu, 26 May | 16:30 | SCOOP 87-L: $11 NLHE [7-Max, Turbo, Progressive KO], $100K Gtd | 1 |
| Thu, 26 May | 16:30 | SCOOP 87-M: $109 NLHE [7-Max, Turbo, Progressive KO], $250K Gtd | 1 |
| Thu, 26 May | 16:30 | SCOOP 87-H: $1,050 NLHE [7-Max, Turbo, Progressive KO], $300K Gtd | 1 |
| Sat, 28 May | 10:05 | SCOOP 88-L: $5.50 NLHE [Deep Stacks], $70K Gtd | 1 |
| Sat, 28 May | 10:05 | SCOOP 88-M: $55 NLHE [Deep Stacks], $250K Gtd | 1 |
| Sat, 28 May | 10:05 | SCOOP 88-H: $530 NLHE [Deep Stacks], $300K Gtd | 1 |
| Sat, 28 May | 12:30 | SCOOP 89-L: $55 NLHE [Progressive KO], $350K Gtd | 2 |
| Sat, 28 May | 12:30 | SCOOP 89-M: $320 NLHE [Progressive KO], $400K Gtd | 2 |
| Sat, 28 May | 12:30 | SCOOP 89-H: $1,050 NLHE [Progressive KO], $750K Gtd | 2 |
| Sat, 28 May | 13:30 | SCOOP 90-L: $11 NLO8, $20K Gtd | 1 |
| Sat, 28 May | 13:30 | SCOOP 90-M: $109 NLO8, $50K Gtd | 1 |
| Sat, 28 May | 13:30 | SCOOP 90-H: $1,050 NLO8, $125K Gtd | 1 |
| Sat, 28 May | 15:05 | SCOOP 91-L: $11 NLHE [6-Max, Turbo], $40K Gtd | 1 |
| Sat, 28 May | 15:05 | SCOOP 91-M: $109 NLHE [6-Max, Turbo], $125K Gtd | 1 |
| Sat, 28 May | 15:05 | SCOOP 91-H: $1,050 NLHE [6-Max, Turbo], $175K Gtd | 1 |
| Sat, 28 May | 16:30 | SCOOP 92-L: $2.20 NLHE [7-Max, Hyper-Turbo, Progressive KO, Last Player Standing], $20K Gtd | 1 |
| Sat, 28 May | 16:30 | SCOOP 92-M: $22 NLHE [7-Max, Hyper-Turbo, Progressive KO, Last Player Standing], $100K Gtd | 1 |
| Sat, 28 May | 16:30 | SCOOP 92-H: $215 NLHE [7-Max, Hyper-Turbo, Progressive KO, Last Player Standing], $175K Gtd | 1 |
| Sun, 29 May | 08:05 | SCOOP 93-L: $5.50 NLHE [Sunday Kickoff], $35K Gtd | 2 |
| Sun, 29 May | 08:05 | SCOOP 93-M: $55 NLHE [Sunday Kickoff], $200K Gtd | 2 |
| Sun, 29 May | 08:05 | SCOOP 93-H: $530 NLHE [Sunday Kickoff], $350K Gtd | 2 |
| Sun, 29 May | 10:05 | SCOOP 94-L: $22 NLHE [Progressive KO, Sunday Warm-Up], $200K Gtd | 2 |
| Sun, 29 May | 10:05 | SCOOP 94-M: $215 NLHE [Progressive KO, Sunday Warm-Up], $500K Gtd | 2 |
| Sun, 29 May | 10:05 | SCOOP 94-H: $2,100 NLHE [Progressive KO, Sunday Warm-Up], $600K Gtd | 2 |
| Sun, 29 May | 12:30 | SCOOP 95-L: $109 NLHE [Main Event], $2.5M Gtd | 4 |
| Sun, 29 May | 12:30 | SCOOP 95-M: $1,050 NLHE [Main Event], $4M Gtd | 4 |
| Sun, 29 May | 12:30 | SCOOP 95-H: $10,300 NLHE [Main Event], $5M Gtd | 4 |
| Sun, 29 May | 13:30 | SCOOP 96-L: $5.50 NLHE [Progressive KO, Women's Event], $3K Gtd | 1 |
| Sun, 29 May | 13:30 | SCOOP 96-M: $22 NLHE [Progressive KO, Women's Event], $10K Gtd | 1 |
| Sun, 29 May | 13:30 | SCOOP 96-H: $109 NLHE [Progressive KO, Women's Event], $25K Gtd | 1 |
| Sun, 29 May | 15:05 | SCOOP 97-L: $109 PLO [PLO Main Event], $250K Gtd | 3 |
| Sun, 29 May | 15:05 | SCOOP 97-M: $1,050 PLO [PLO Main Event], $600K Gtd | 3 |
| Sun, 29 May | 15:05 | SCOOP 97-H: $10,300 PLO [PLO Main Event], $800K Gtd | 3 |
| Sun, 29 May | 16:30 | SCOOP 98-L: $11 NLHE [Turbo, Progressive KO, Sunday Cooldown], $85K Gtd | 1 |
| Sun, 29 May | 16:30 | SCOOP 98-M: $109 NLHE [Turbo, Progressive KO, Sunday Cooldown], $350K Gtd | 1 |
| Sun, 29 May | 16:30 | SCOOP 98-H: $1,050 NLHE [Turbo, Progressive KO, Sunday Cooldown], $500K Gtd | 1 |
| Mon, 30 May | 12:30 | SCOOP 99-L: $11 NLHE [Progressive KO, Series Saver], $175K Gtd | 2 |
| Mon, 30 May | 12:30 | SCOOP 99-M: $109 NLHE [Progressive KO, Series Saver], $650K Gtd | 2 |
| Mon, 30 May | 12:30 | SCOOP 99-H: $1,050 NLHE [Progressive KO, Series Saver], $1M Gtd | 2 |
| Mon, 30 May | 14:15 | SCOOP 01-L: $2.20 NLHE [Phase 2], $125K Gtd | 2 |
| Mon, 30 May | 14:15 | SCOOP 01-M: $11 NLHE [Phase 2], $500K Gtd | 2 |
| Mon, 30 May | 14:15 | SCOOP 01-H: $55 NLHE [Phase 2], $1M Gtd | 2 |
| Mon, 30 May | 15:05 | SCOOP 100-L: $55 NLHE [Turbo, Main Event 2nd Chance], $175K Gtd | 1 |
| Mon, 30 May | 15:05 | SCOOP 100-M: $530 NLHE [Turbo, Main Event 2nd Chance], $250K Gtd | 1 |
| Mon, 30 May | 15:05 | SCOOP 100-H: $5,200 NLHE [Turbo, Main Event 2nd Chance], $350K Gtd | 1 |
| Mon, 30 May | 16:05 | SCOOP 101-L: $2.20 NLHE [6-Max, Turbo], $17.5K Gtd | 1 |
| Mon, 30 May | 16:05 | SCOOP 101-M: $22 NLHE [6-Max, Turbo], $125K Gtd | 1 |
| Mon, 30 May | 16:05 | SCOOP 101-H: $215 NLHE [6-Max, Turbo], $250K Gtd | 1 |
| Tue, 31 May | 12:30 | SCOOP 102-L: $11 NLHE [Super Tuesday], $125K Gtd | 2 |
| Tue, 31 May | 12:30 | SCOOP 102-M: $109 NLHE [Super Tuesday], $400K Gtd | 2 |
| Tue, 31 May | 12:30 | SCOOP 102-H: $1,050 NLHE [Super Tuesday], $500K Gtd | 2 |
| Tue, 31 May | 13:30 | SCOOP 103-L: $5.50 NLHE/PLO [6-Max, Progressive KO], $20K Gtd | 2 |
| Tue, 31 May | 13:30 | SCOOP 103-M: $55 NLHE/PLO [6-Max, Progressive KO], $50K Gtd | 2 |
| Tue, 31 May | 13:30 | SCOOP 103-H: $530 NLHE/PLO [6-Max, Progressive KO], $100K Gtd | 2 |
| Tue, 31 May | 15:05 | SCOOP 104-L: $5.50 NLHE [Heads-Up, Turbo, Progressive Total KO, Heads-Up TKO Zoom], $40K Gtd | 1 |
| Tue, 31 May | 15:05 | SCOOP 104-M: $55 NLHE [Heads-Up, Turbo, Progressive Total KO, Heads-Up TKO Zoom], $175K Gtd | 1 |
| Tue, 31 May | 15:05 | SCOOP 104-H: $530 NLHE [Heads-Up, Turbo, Progressive Total KO, Heads-Up TKO Zoom], $200K Gtd | 1 |
| Wed, 01 Jun | 12:30 | SCOOP 105-L: $5.50 NLHE [Progressive KO, Final Freeze], $30K Gtd | 1 |
| Wed, 01 Jun | 12:30 | SCOOP 105-M: $55 NLHE [Progressive KO, Final Freeze], $175K Gtd | 1 |
| Wed, 01 Jun | 12:30 | SCOOP 105-H: $530 NLHE [Progressive KO, Final Freeze], $250K Gtd | 1 |
| Wed, 01 Jun | 15:05 | SCOOP 106-L: $3.30 NLHE [7-Max, Hyper-Turbo, Progressive KO, Series Wrap-Up], $35K Gtd | 1 |
| Wed, 01 Jun | 15:05 | SCOOP 106-M: $33 NLHE [7-Max, Hyper-Turbo, Progressive KO, Series Wrap-Up], $125K Gtd | 1 |
| Wed, 01 Jun | 15:05 | SCOOP 106-H: $320 NLHE [7-Max, Hyper-Turbo, Progressive KO, Series Wrap-Up], $150K Gtd | 1 |